BNSC NEWS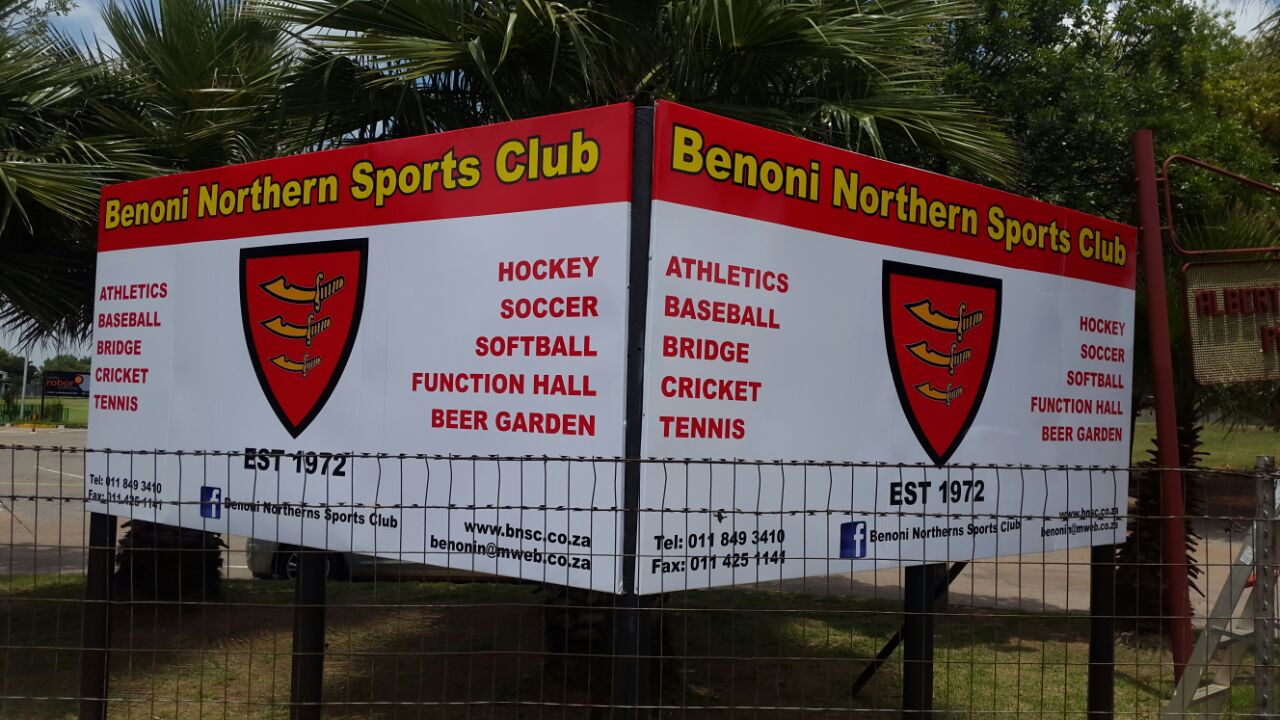 Hi to everyone
I really can't believe that we have already completed three months of this year…Wow!!
Again, we had another sizzling hot weekend at Northerns. On Friday we hosted our monthly night market and it was great to see the crowds enjoy the lively atmosphere…I stood upstairs and really enjoyed the whole ambience and vibe in the air ..Boycott Ballad, our band for the evening, added to the festivities…well done and thank you….If you missed out on this one, be sure to be here on April 28…
The senior baseball had their prize-giving on Friday evening, the report backs indicating that it was a tremendous event. Congratulations to all the trophy winners, players and coaches…
Saturday saw the return of football to the North…and their winning ways continued…. this significant win over Boksburg means that we have now started the season with a 100% record after the first three games…. great stuff chaps…. Also, judging by all the positive remarks from the players, the soccer boys really enjoyed playing on the improved surfaces…a massive thank you to Brian Buys, Andy Dudley and Victor for the tireless efforts that they put in. We can see the improvements and now the players are saying they can feel it too!!
Hockey had a busy weekend on the Astro with a highly successful 8-a-side tournament on Saturday, followed by hosting a touring Australian side from Sydney, Wanderers, who brought two ladies and one mens side. I was fortunate enough to be able to participate in one of the matches against them and despite the heat, some scintillating hockey was played…Andy Dudley and a few of the players representing the local side, displayed some of their silky skills, leaving the Aussies in their wake, trying to catch a few spooks.
I see that the issue of dogs is still a matter of concern to the public. As these are our sports fields, I can only ask the public and our members who disagree with the ruling a quick question….would you be prepared to take your dog onto Ellis Park or Loftus Versveld and then believe you will be allowed to exercise them there?
When our members walk out on our hallowed turf, they ought feel and be treated like the professionals playing on their respective home grounds too…whether they be 5 or 75….
With the school holidays upon us, if you are travelling please take care on the roads, there are a surplus of idiot drivers whenever we have school holidays and enjoy your Easter break. If you are staying at home, Northerns will still be open…come down and enjoy some cool refreshments and catch up on all the live sport on any of our televisions in the bars.
We are co-hosting hockey for the St Dunstans Easter Festival, with games on the Thursday, Saturday and Monday of the weekend. Join us in watching the stars of the future, with some super schools hockey.
The cricketers will be improving their main oval pitch in the off season. I'm sure you will see them at various times in the winter months, planting new grass, watering and nurturing growth, to ensure a top notch wicket for the upcoming season.
The Council have completed their work on the electrical lines to our borehole (which is situated near the swimming pool pump house) and we should have the borehole up and running shortly. Our winter season programme of fertilising and watering will then commence.
That is it from me for this week, but if you believe there is anything that you could contribute to further the success of the Club, or believe there is possibly something holding us back, please do not hesitate to send it through to my personal email rod.karoe@gmail.com
Yours in Sport
Rod


Friday Night Club Draw  Results: 31st March 2017
Member Weekly Draw
2 x Cases SAB:  Shane Nel (Cricket) – Not Present
Club Member Draw: R5 400.00 :  Eric Hutchinson (Hockey) – Not Present
Winnings now stand at  R 5 600.00
The next draw will be held at 19h30 on FRIDAY 07th April 2017
Weekly Raffle Draw
1 x Case SAB: Alistair Hamilton (Social);  Matts Meat Voucher: Craig Wittstock (Exec)
"Eben" will be playing at Benoni Northerns in the Scimitar on Friday April 7 from 18h00.  Please come along and enjoy a variety of tunes from this talented musician.
Pub Lunches will be served in "the Scimitar Bar and Beer Garden from 12h00 on Fridays
Jurie de Graaff drew the 4 of Spades
Joker Draw Winnings was not won!!!  Draw now stands at R 71 807.00 !!!!
Which will be drawn at 19h30 on Friday 07th April 2017 with the last ticket being sold at 19h15
---
ATHLETICS
Congrats to all our 2017 Ironmen 
Mark Dingle – 10h47
Kristian Fesel – 11h52
Dean Brons – 12h14
Kegan Murphy – 12h48
Brett Else – 13h18
Barry Gormley – 13h57
Frans Hattingh 14h14
Craig Dingle – 15h20
ROBOR SCAFFOLDING MARATHON – 23RD APRIL 2017   
Pre-Entries:                     50km – R180.00;   42.2km – R160.00;   21.1km – R110.00;   10km – R50.00.
Pre-Entries:  60yrs+      50km – R180.00;   42.2km – R160.00;   21.1km – R110.00;   10km – R50.00.
---
CRICKET
Join our men and women as they compete for the Battle of the Roses title!
Date: 21-23 April 2017;  Venue: Sahara Park Willowmoore
You can view the Teams on www.bncricket.co.za
The BNCC AGM will be held on Wednesday the 24th of May 2017 in the Main Hall at 7pm.
If there are any nominations for positions on the cricket board please ensure these nominations, along with a small motivational letter, reach Dylan Coates (dylan@bncricket.co.za) before Wednesday 10 May 2017. 
Junior cricket is launching its first year of the Winter Cricket format.  Games will be played on Sundays against various academies to cater for those boys who do not play other winter sports and those who want to keep cricketing through the year.  We have received positive feedback and are in a position to field 3 age groups – U/9, U/11 and U/13.  
For more info and registration to contact:  Brendon S@servest.co.za
---
HOCKEY
---
FOOTBALL
Weekend Result : Premier 1st beat Boksburg 7-1;  Premier 2nd beat Boksburg 7-2 (both games were at home)
Junior Football Season commences in 2017; the first weekend after Easter Weekend
---