BNSC NEWSLETTER
Hi there to everybody
Phew! What a weekend…for the second weekend in a row…the North was cooking…it started on Friday with a great night market (this is becoming ever more popular and the vendors have mentioned that our venue and the atmosphere are superb) and the band, The Zimmer Twinz, kept all the patrons in the Scimitar rocking until pumpkin hour…they even remained for an extra set as the vibe was incredible…onto a massive Saturday for players and spectators, with the Derby…all the bars were packed to capacity…whilst Rugby made their home debut at the North…the hockey ladies made sure that their presence was felt too, with their fines and drinking songs and baseball also had their teams at home too…whilst Sunday, albeit a little more subdued, still had its fair share of hockey players and the Junior soccer parents, keeping the Clubs flags flying high.
I would like to make a special mention of my staff who continue to surprise and impress me, with their ability to adapt to the various levels of pressure that they are exposed to. They are a bunch of superstars, who handled some really disrespectful customers with aplomb and dignity. Well done to Shepherd and his team, I am suitably proud of your efforts and I am privileged to be part of the team. Thanks to all those who manned the additional bars (on the deck and at the rugby match), your efforts and commitment are truly appreciated.
Unfortunately, the results of the weekend did not match the enthusiasm of the Soccer or Rugby teams, but I think if results were based on the support that the teams received, we would have had more positive outcomes. I would like to thank our Members for their amazing support over this weekend…it was most heartwarming and pleasing to see the return of a lot of Old Boys over the weekend…. well done to the Soccer committee who did some sterling work in getting so many of the old faces back at the North. Rugby also enjoyed a fair share of support, but I believe that this will grow significantly this weekend as there is no clash with Soccer.
This weekend starts off with another Fantastic Friday, after another carry over on both of our draws….the Members draw now stands at R7 000 whilst the Joker draw has risen to R87 348…you need to be here to win either of these, so make your way down to the North on Friday (remember that the Scimitar opens at 12 noon of Fridays and Nibble and Natter offers Lunches…their Steak, Egg, Chips and onion rings for only R70 is proving to be a winner with all the patrons)… Breaking Static are the returning to entertain us on Friday evening…they were extremely well received at their last appearance…so pull on your dancing shoes and come and enjoy yourselves… Saturday sees the return of the Green Bar Craft Beer Festival…last year was an absolute blast and this year is set to break all records set…Rubber Duc are one of the headline acts and I'm sure will be a massive drawcard…tickets are on sale at the Main Bar for R157… Rugby is hosting another home game on Saturday afternoon, with the reserves on at 14h00 whilst the first team kicks off at 15h30. I'm sure that they will appreciate all of our support. Sunday will see Mens hockey being played at the Astro…so I am sure that there will be lots of refreshments sold in the beer garden to sooth weary legs after those matches.
And it may not be on our home turf…but Sunday sees over 200 of our Club Members taking to the road from Durban to Pietermatritzburg…..Northerns has a huge team of runners and back-room boys going along this weekend…to all those making the trip…safe travels and may all your goals be met….I am sure for a lot of our athletes, this has been a full year of preparation….there have been many kilometres of training..short runs, long runs, hill climbs and marathons…different eating plans…and I am sure piles of advice as to what to do and what not to do….But it all comes down to Sunday…There will be plenty of South Africans glued to their televisions watching the race unfold..to see who wins…to see the agony and triumph…but this year, I will again be watching for our yellow and white vests with red shorts…and each time I see them, my heart will swell with pride knowing that these warriors are holding our Club's name on high… to each and every one of our brave Club Members that are competing…all of the best for the race…may your feet be fleet and swift and your minds be strong… I will be urging you on every step of the way…
With June 16 being a holiday and falling on a Friday this year, we have decided to make Thursday 15th an "honorary Friday at the North"…so we will have the Members and Joker draws on this night and to also celebrate the day with a Karaoke night. Please polish up those voices and crank up the volume, we want to see all the talent of the North in the Scimitar after the Joker Draw till late… Be sure to note this one in your diary, I'm sure it will be unforgettable…
I hope you have tried some of the new additions to the bar menu…A tap system offering Scimitar Lager and Eish Tea has been installed in the Scimitar..whilst R&R are proving to be very popular…. Keep watching out for further additions….
That's it….please keep sending any complaints, compliments or suggestions to me at rod.karoe@gmail.com
Cheers, take care       Rod

Friday Night Club Draw RESULTS: 26th May 2017
Member Weekly Draw:  2 x Cases SAB:  Manny Ferreirinho (Football) – Not Present
Club Member Draw: R6 800.00:  Craig Dingle (Athletics) – Not Present
Winnings now stand at R 7 000.00 The next draw will be held at 19h30 on FRIDAY 02nd June 2017
Weekly Raffle Draw
1 x Case SAB: Russell Howard (Social)  Matts Meat Voucher: Alan Knight (Social)
"SCIMITAR BAR" AND BEER GARDEN OPENING FROM 12H00 ON FRIDAYS SERVING PUB LUNCHES
Will be entertaining us from 18h00 on Friday 02nd June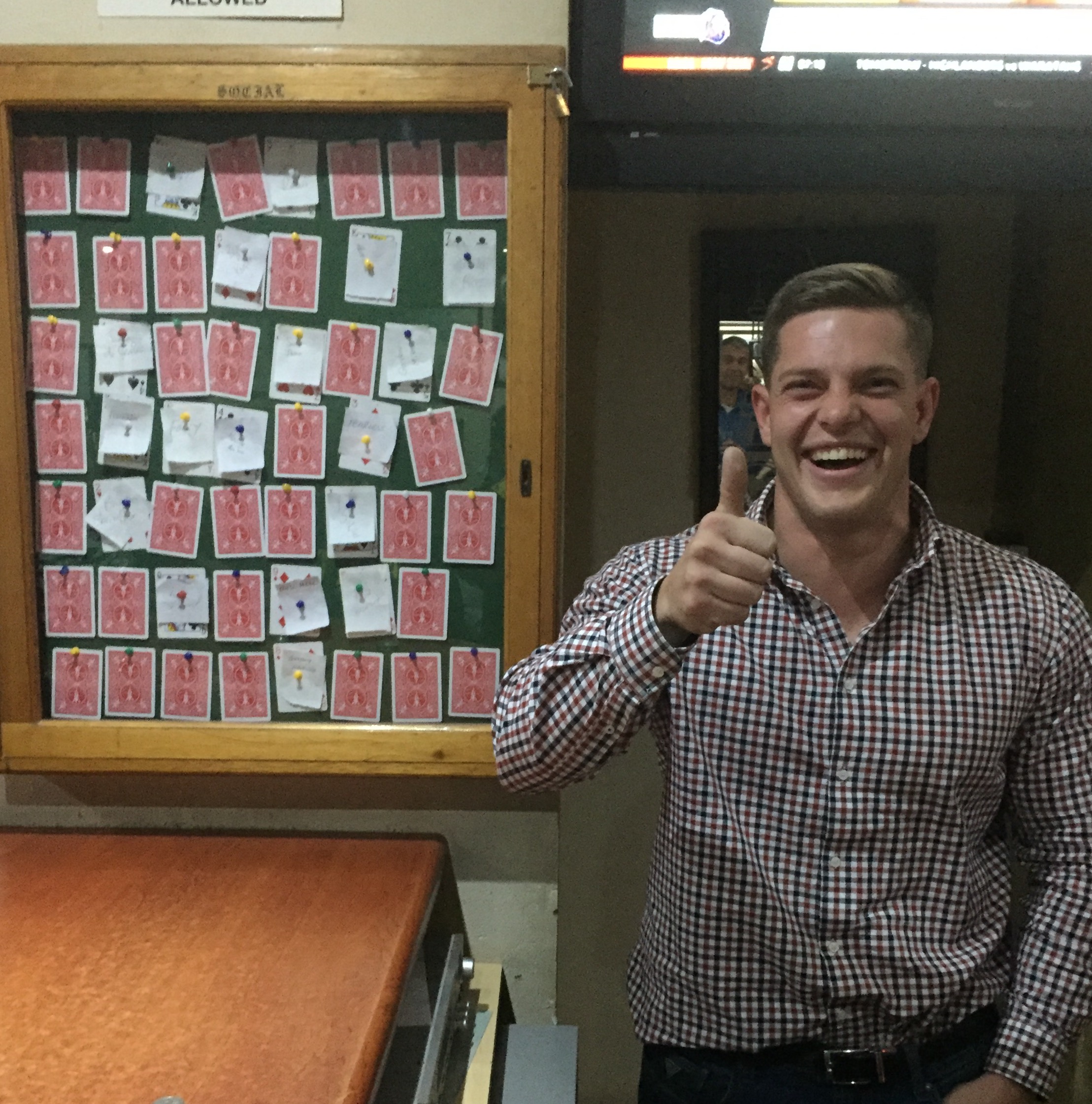 Guest – Luke Strydom drew the 9 Hearts so Joker Draw is a carry over at R87 348.00 for Friday 02nd June – drawn at 19h30 on Friday 26th May – the last ticket being sold at 19h15.
[Tickets (from R120) go on sale 1 JUNE 2017]
Heat 1 ~ 11:00 – 11:40
Heat 2 ~ 11:40 – 12:20
Heat 3 ~ 12:20 – 13:00
Heat 4 ~ 13:00 – 13:40
Heat 5 ~ 13:40 – 14:20 Relay Event
Heat 6 ~ 14:20 – 15:00
Heat 7 ~ 15:00 – 15:40
Heat 8 ~ 15:40 – 16:20 Relay Event
Heat 9 ~ 16:20 – 17:00
**No U/18's will be allowed to participate in this event
---
ATHLETICS
BNAC 202 Comrades entrants – 3rd biggest traditonal (non corporate or professional) Club in the Country – attending the Annual Comrades Breakfast at Benoni Country Club on Sunday 28th May.
---
BASEBALL
| | | | | | | | | | | | | | | | | | | | |
| --- | --- | --- | --- | --- | --- | --- | --- | --- | --- | --- | --- | --- | --- | --- | --- | --- | --- | --- | --- |
| 04-Jun | GIANTS | vs | REDSOX | EDENVALE | 13H00 | | 04-Jun | METS | vs | REDSOX | RANDBURG | 10H00 | | 04-Jun | BANTAMS | vs | PANTHERS | EDENVALE | 10H00 |
| | MUSTANGS | vs | METS | MUSTANGS | 13H00 | | | MIX N MATCH | vs | JAPAN EXP | RANDBURG | 13H00 | | | MUSTANGS | vs | PIRATES | MUSTANGS | 10H00 |
| 3 | WITCHITA | vs | ALEX | BENONI | 13H00 | | 3 | MUSTANGS | vs | MIDGETS | MUSTANGS | 10H00 | | 3 | SIOUX | vs | RAIDERS | BENONI | 10H00 |
| | | | | | | | | CARDINALS | vs | COBRAS | BOKSBURG | 10H00 | | | MIX N MATCH | | BYE | | |
| | | | | | | | | OLDINALS | vs | SOUTH STARS | BOKSBURG | 10H00 | | | | | | | |
---
CRICKET
Northerns vs Champions – What saw a cold start to the morning, saw the Northerns Under 9 team take to the field after winning the toss. Although not many wickets fell, the bowling was tight, complemented by a good fielding performance. Matt bowled Peter out for a duck, which saw Zuan come to the crease and blast a few boundaries. Luan caught a blinder of a catch to get rid of the danger man off Kaeghan's bowling. Champions was restricted to a total of 89/4 off their 25 overs. Northerns came into bat with Edrich and Tristan putting in a good batting performance, cleaning up the opponent bowling attack. Northerns finished up winning well with 11 overs to spare. Bowling performances – Keaghan: 3 overs, 2 for 7; Matt: 2 overs, 1 for 3; Edrich: 3 overs, 0 for 1 run, Luke: 2 overs, 0 for 2 and Sohail: 2 overs, 0 for 3. Batting: Edrich 35, Tristan 29 Not Out.
A good win for the boys.
---
FOOTBALL
1st Local Derby hosted by Benoni Northerns Sat 27th May – Super League 1st lost to Old Bens – 3-1
Last Game Match Results
Super League 2nd lost to Old Bens – 4-2.  3rds lost to Pule Stars 3-0. 4ths beat CBC – 4-1.  Colts 1st beat Luso – 2-0. Colts 2nd lost to Vosloorus – 6-2
---
HOCKEY
1st team beat Old Eds B, 4-1. Shane McGregor, Kenny Bruggeman, Darren Thysse and Michael Faulds all scoring goals.  2nd  team lost to Shumbas C on Saturday 3-1 with Peter Tucker scoring their only goal.
On a side note, we will have 6 past and current Mens 1st team players who will be running Comrades in Northerns colours this Sunday. They are Chris Tucker, Dale Griffiths, Grant Cruickshank, Neil Chard, Squire Flint and Michael Veliotes.
MENS LEAGUE FIXTURES 2017 – Sun 04/06/17
08:00 B.O.B.S vs Mammoths B.N, EGHA Field
08:00 Colts B.N. vs Hangovers B.N. St Dunstans
09:20 Chirpers Old Bens vs Geriatrix B.N. EGHA Field
09:20 Old Dunstonians Rouges vs Modder St Dunstans
10:40 Silver Bullets CBC vs Dunstonians A EGHA Field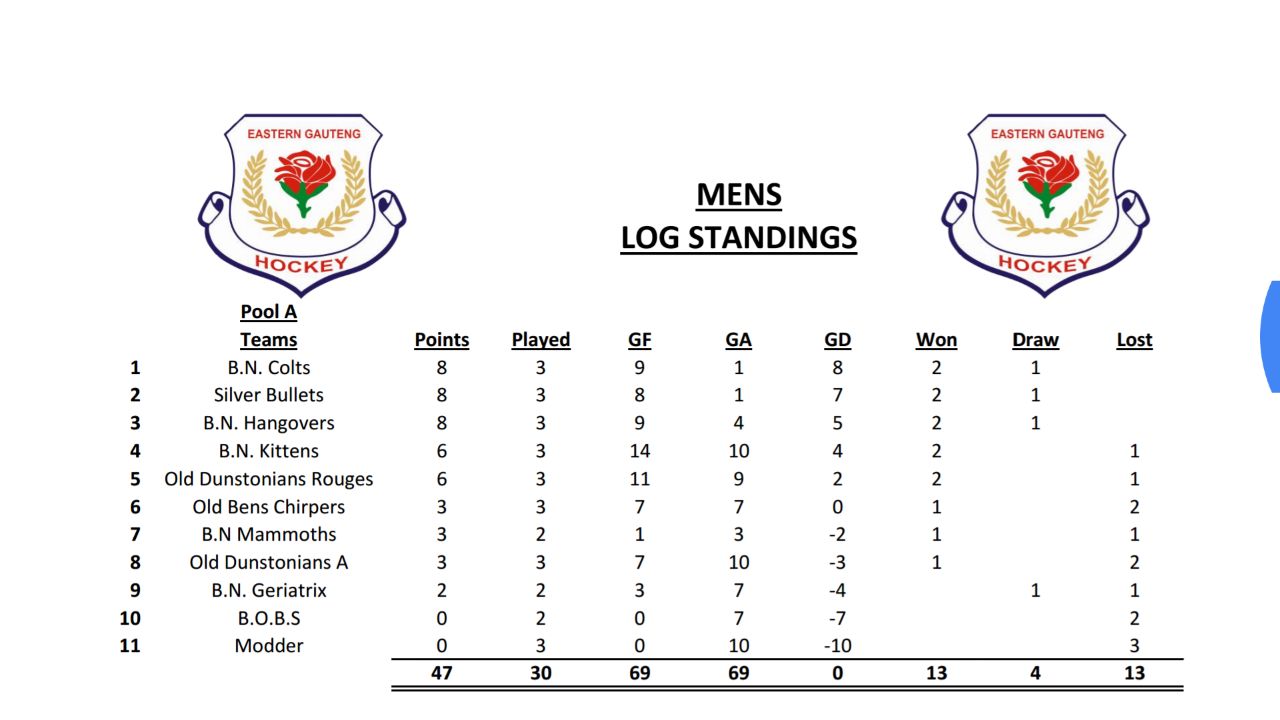 EASTERN GAUTENG 2017 LADIES FIXTURES – Sat 03/06/2017
11:30   POOL B Eagles E.G.Jansen vs Old Bens B – Stompers EGHA Field
11:30   POOL B Benoni Northerns D – Angels vs Benoni Northerns – Eagles St Dunstans
12:50   POOL A Benoni Northerns C – Ya Ya's vs Old Bens A – Chirpettes EGHA Field
12:50   POOL A Benoni Northerns B – FTC vs Benoni Northerns A – Fossils St Dunstans
14:10   POOL A Benoni Northerns E – Falcons vs CBC A – Chargers EGHA Field
14:10   POOL B Reiger Park A vs Kempton Park A – Cougars St Dunstans
15:30   POOL A Old Dunstonians A vs CBC Ladies B St Dunstans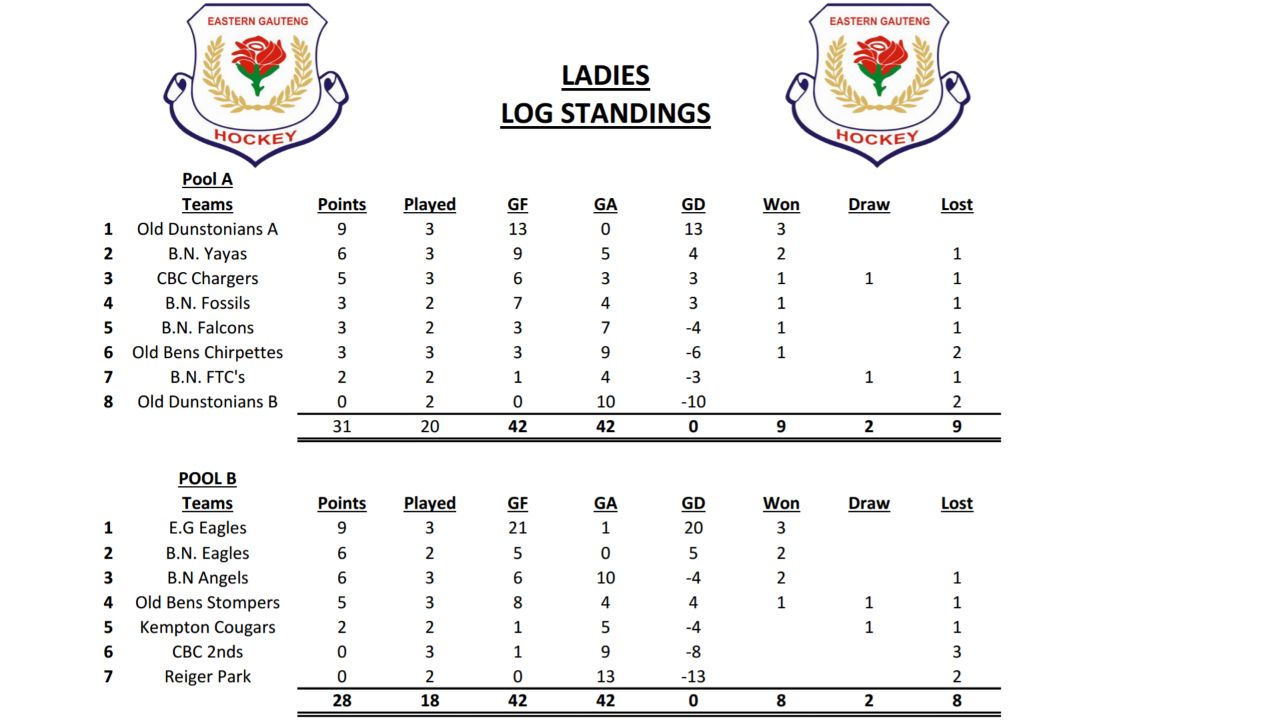 ---
RUGBY
What a great day it was on Saturday, our first home game on our new grounds. We unfortunately lost, but it was a great day for us.  The 2nd team lost Benoni 15 vs Kempton Wolwe 17.  1 st team Benoni 15 vs Kempton Wolwe 69
---