BNSC NEWSLETTER
Hi there everyone
Wow! Mother Nature showed her power with some force over the weekend….Plenty of rain with the arrival of some significantly cooler weather. I think all those at the Club, were thankful to our predecessors for having this insight to install fires at the inside pubs. All of those present, were kept warm and toastie, whilst enjoying their favourite refreshments with friends…watching sport or recovering from some strenuous exercise. With some events in the area being cancelled, the North and our Members were still as busy as ever. Hockey, soccer, baseball and rugby were all out and about, playing their respective sports at various locations…and representing age groups from under 5 to Grand Masters…. Cricket had their annual prize giving….well done to all their trophy winners on their personal achievements….
On a strictly non sporting level, we hosted our AGM last Thursday…a great big thank you to all those that took the time out to attend. We received some valuable insight and positive suggestions from the committee and Members from the floor for the way forward. A massive "well done" to Doctor Wittstock on being elected as President, with our new Chairman being Laurence Brown and Emma da Silva filling the Vice Chair shoes. Congratulations to all those proposed and elected…plenty of work is awaiting you all and it is going to be a year full of new challenges, but I am confident that success will be achieved at each and every event and gathering. Judging from the mirth and hilarity emanating from the Scimitar after the meeting, the evening was huge success. Additionally, Dr Wittstock and Rodney Farrell were proposed and accepted as life Members to Benoni Northern Sports Club, as recognition for all the sacrifices and concerted efforts they put in to ensure the Club continues in the successful trend it currently enjoys. Well done to you two, I have been fortunate enough to work closely with them both for the last nine odd months…they are Superstars…. Thank you…
On a sadder note, we bade farewell to Ted Jarvis, who been a foundation and cornerstone of the North for more than 40 years. Ted stood down as Club President to enable Dr Wittstock to assume this difficult portfolio in the future. I am sure that every single Member, past and present, has reason to thank Ted for his tireless contribution over this time to Benoni Northerns…. I am happy to see that Ted has agreed to still be serving on the executive committee, his insight and experience will prove to be a most valuable asset…. I am sure that Ted will enjoy this new role, which I am sure at times he may find challenging too, whilst being a bit more removed from the rock face, he will still be aware of and party to the general running and well-being of the Club.
With the cooler weather arriving, this Friday we will be serving Curry and Rice at R40 per plate….please remember that there will be limited stock available…so arrive early, as it will be on a first come, first served basis. I have arranged another debut musician this week… Jef Penn will be gracing the Scimitar with his range and style of favourites this Friday, starting from 18h30….and then something more to warm your hearts, the Members and Joker draw were not won last week, so there is a carryover of R6 600 for the Members, with the Joker having R82 161 in the pot now. To participate in the Members draw, you need only to be a paid up Member of Benoni Northerns, but for the Joker draw all you need is one R5 ticket! (but obviously the more tickets you have, the greater your opportunity of being selected) These two draws are shortly after Jef starts and are at 19h00 and 19h30 respectively. You have to be present to win either of these two draws, so make an event for this week and enjoy some food, music and possibly walk away with a fatter wallet than when you arrived!!
Whilst we host a bundle of sports on the weekend (Junior Soccer and Hockey, Senior Soccer and Hockey….) Rugby and Baseball are away…whilst our runners are getting the miles in as preparation for their Comrades. Tomorrow is the runners monthly braai, so the Club will literally be overflowing with athletes….Our Senior footballers had a draw against a traditionally strong Highlands Park outfit last week….so they are still unbeaten at home this season…and "Fish" is crowing his reserve side are playing amazing ball and beat Highlands Park for the first time in many years…Well done… Next Saturday is our Derby Day against Old Bens…while the Rugby boys make their eagerly awaited debut at the North.
And now for something completely different…..their slogan is "the Happiest 5k on the planet"….the Color Run is being hosted by the North for the first time…their containers and fencing have arrived…bags of coloured powder and boxes of goodies have been delivered…and from Thursday, the Halls are going to be abuzz with their entertainment team preparing for the race on Sunday. Our sub-sections are coaching their teams for the Colour stations, so if you are participating, you will see a lot of familiar faces on the route. The start and finish will be on the main sports fields outside the Club House…if you plan to merely spectate, arrive early in order to obtain the best vantage point. The organisers are expecting a sizeable turnout…so again if you are playing sport at the North on the weekend, please plan your trip and allow for some delays around the North on the weekend.
That's it for today… send your compliments, complaints and suggestions to me at rod.karoe@gmail.com
Cheers     Rod
Friday Night Club Draw RESULTS: 12th May 2017
Member Weekly Draw:  2 x Cases SAB:  Dylan Coates (Cricket) – Not Present
Club Member Draw: R6 400.00:  Helen Isaacs (Bridge) – Not Present
Winnings now stand at R 6 600.00 The next draw will be held at 19h30 on FRIDAY 19th May 2017
Weekly Raffle Draw
1 x Case SAB: Mike Harper (Social)  Matts Meat Voucher: Brad Knight (Social)
"SCIMITAR BAR" AND BEER GARDEN OPENING FROM 12H00 ON FRIDAYS SERVING PUB LUNCHES
"JEF PENN" – WILL BE ENTERTAINING US ON FRIDAY 19TH MAY 2017 
Joker Draw Winnings was not won!!!
Draw now stands at R 82 161.00 !!!!  Which will be drawn at 19h30 on Friday 19TH May – the last ticket being sold at 19h15
Gordon Miles from Social drew the Five of Clubs
---
ATHLETICS
All Color Runners get ready in the start chute at 9:45am, start gun goes off at 10am to start The Happiest 5km in Benoni.
Each batch starts 3 minutes apart and you'll head off in each batch with approximately 500 new friends. It takes 1-2 hours to run or walk the route and then into the festival zone where you will enjoy music from awesome DJ's, local acts, best-dressed competitions, food and drink and you guessed it, more color!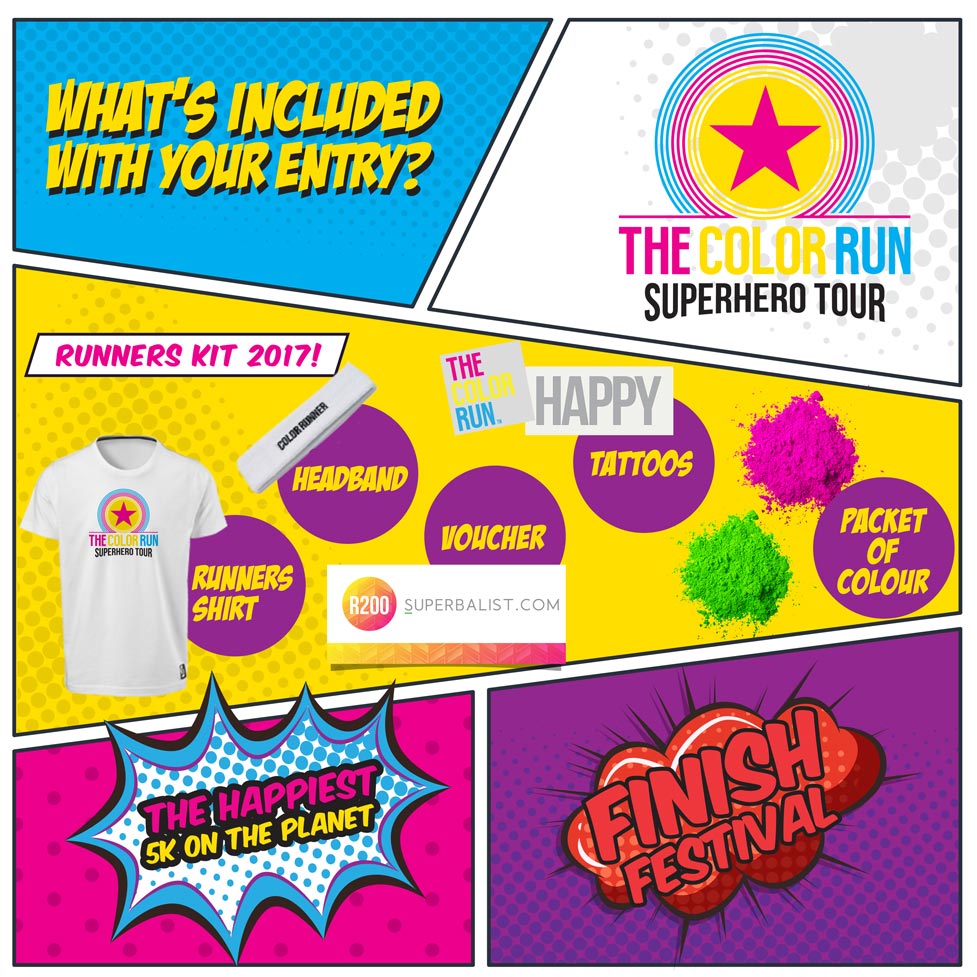 ---
CRICKET
CRICKET SUB-SECTION A.G.M.
ARE HOLDING THEIR ANNUAL GENERAL MEETING OF ON WEDNESDAY 24th MAY 2017 AT 19H15 IN 
BENONI NORTHERN AREAS CLUB HALL.  ALL MEMBER ATTENDANCE WILL BE APPRECIATED.
---
FOOTBALL
Last Game Match Results
Super League 1st drew with Highlands Park – 1-1.  Super League 2nd beat Highlands Park – 4-3.  3rds washed out against Alberton.  4ths beat Bonaero – 9-0.  
---
HOCKEY
LADIES FIXTURES: Sat 20/05/2017 
POOL B -Benoni Northerns – Eagles vs Kempton Park A – Cougars – EGHA Field
POOL B Old Dunstonians B vs Old Bens B – Stompers – St Dunstans
POOL A Benoni Northerns B – FTC vs Benoni Northerns E – Falcons – EGHA Field
POOL B Benoni Northerns D – Angels vs Eagles E.G.Jansen – St Dunstans
POOL A Old Bens A – Chirpettes vs CBC A – Chargers – EGHA Field
POOL A Benoni Northerns A – Fossils vs CBC Ladies B – St Dunstans
POOL A Old Dunstonians A vs Benoni Northerns C – Ya Ya's – St Dunstans
MEN'S FIXTURES: Sun 21/05/2017 
08:00 B.O.B.S vs Colts B.N. – EGHA Field
08:00 Silver Bullets CBC vs Chirpers Old Bens – St Dunstans
09:20 Old Dunstonians Rouges vs Dunstonians A – St Dunstans
09:20 Modder vs Hangovers B.N. – EGHA Field
10:40 Geriatrix B.N, vs Kittens B.N. – EGHA Field
---
RUGBY
20TH  May – Senior fixtures
| | | | | | |
| --- | --- | --- | --- | --- | --- |
| 02nd | NIGEL |  v | BENONI |   Brakpan |     Time: 14h45 |
| 01st | SASOLBURG |  v | KEMPTON PARK |   Brakpan |     Time: 19h00 |
---