BNSC NEWSLETTER
Hi there everyone
Another busy and cracking weekend at the North…. Our joker and members draws were well attended, but still no winners…whilst the band, Dream Catcher had all the members and their guests singing and dancing until really late….The Soccer boys have gained some momentum with three home wins in a row…whilst the senior hockey players descended on the North in numbers as their season kicked off…. Sunday also saw the return of Colts soccer to Northerns…a true testament of the hours (and years) of effort that has been been effected by the Junior coaches and committee to ensure that we have this "bridging team" again….it is a critical link between the Junior and Senior football leagues and makes a welcome return to the North….well done to all concerned.
If you haven't been up to the Club on a Friday for a while, you should really make the effort. Remember that our Members and Joker draws are both presence events (you have to be here to win it), the Members draw is at an all time high of R6 400 this week, whilst the Joker draw has topped R80k and sits at a whopping R80 541… We also feature live music every Friday for your enjoyment. We are hosting a new duo this week … and "2nd Nature" debut in the Scimitar. Peter is an old favourite, whilst Natalie possesses some fresh new vocal talent for us to enjoy. They will be starting from 18h30….it should be lots of fun, join us.
Rugby are playing their first match under the Northerns banner this week and run out away against Sasolburg. You are a long way from home, but we wish you well boys…come back with a series of wins for us….. and the spectators are eagerly awaiting your first home game against Nigel next weekend….
Our soccer boys had a solid 6-0 win against Corinthians, whilst the second side had to twiddle their thumbs getting a walkover result, as their opposition could not field a side. With a win for the Fourths and a draw from the thirds, meant that the Senior sides brought back 10 out of 12 points on the weekend. The 1st side host Highlands Park on Thursday evening, if you have some spare time, please pop along an support the guys, I'm sure they will appreciate your prescence…. The second side will play at 19h00, with first side at 20h30.
All the hockey players descended on the North on Saturday and Sunday…it is wonderful to have them all back, to see the Astro busy again is most satisfying…a warm welcome to all the players, officials and spectators….it is super to hear all the singing and laughter at the various fines meetings…we have missed you all…it is great to see you again!!
Next weekend we host another first…..the Color Run is coming to town next Sunday… and more specifically to the North….we are expecting a large field of runners / walkers/ partiers….I'm sure it is going to be a blast!! The race starts at 09h30 and we have our sub-sections hosting all the color stations….so there is plenty of Northerns involvement…whilst our ever faithful bar staff will await you on completion with a cool refreshing drink or six!! There will also be lots of music to enjoy in the main arena after the race…so this promises to be a day to remember. The organisers will be around from Wednesday/Thursday…putting up the stage, the finishing area, colour stations and their registration area… Also be aware that there may be some traffic disruptions in and around the Club over the weekend…please plan you trips to the North accordingly…
It is our Annual General Meeting of the Main Club on Thursday, May 11th …19h00 for 19h15 in the Hall…your attendance will ensure that you are aware of the direction in which the Committee are steering the Club and you can have your voice heard in matters that concern you. To all the Members that have such wonderful opinions and ideas that they share with us so regularly, this is your chance to have your say in the running of the Club.
To all our Mothers at the Club….may this Mothers day be one of joy, happiness and celebration…One day in the year we are able to pay tribute to these special people…..I trust you will enjoy the time with your loved ones….we thank you from the bottom of our hearts, for the tireless work you do for us all…it really is most appreciated.
That is it from me for this week, but if you believe there is anything that you could contribute to further the success of the Club, or believe there is possibly something holding us back, please do not hesitate to send it through to my personal email rod.karoe@gmail.com …. or join us this week at the AGM and you can tell us in person!!
Yours in Sport
Rod
Friday Night Club Draw RESULTS: 05th May 2017
Member Weekly Draw:  2 x Cases SAB:  Joey Van Schalkwyk (Athletics) – Not Present
Club Member Draw: R6 200.00  Warren Vogel (Football) – Not Present
Winnings now stand at R 6 400.00 The next draw will be held at 19h30 on FRIDAY 12th May 2017
Weekly Raffle Draw
1 x Case SAB: Alan Knight (Social)  Matts Meat Voucher: Victor Shange (Staff)
"SCIMITAR BAR" AND BEER GARDEN OPENING FROM 12H00 ON FRIDAYS SERVING PUB LUNCHES
2ND NATURE WILL BE ENTERTAINING US ON FRIDAY 12TH MAY 2017 
Joker Draw Winnings was not won!!!
Draw now stands at R 80 541.00 !!!!  Which will be drawn at 19h30 on Friday 12th May – the last ticket being sold at 19h15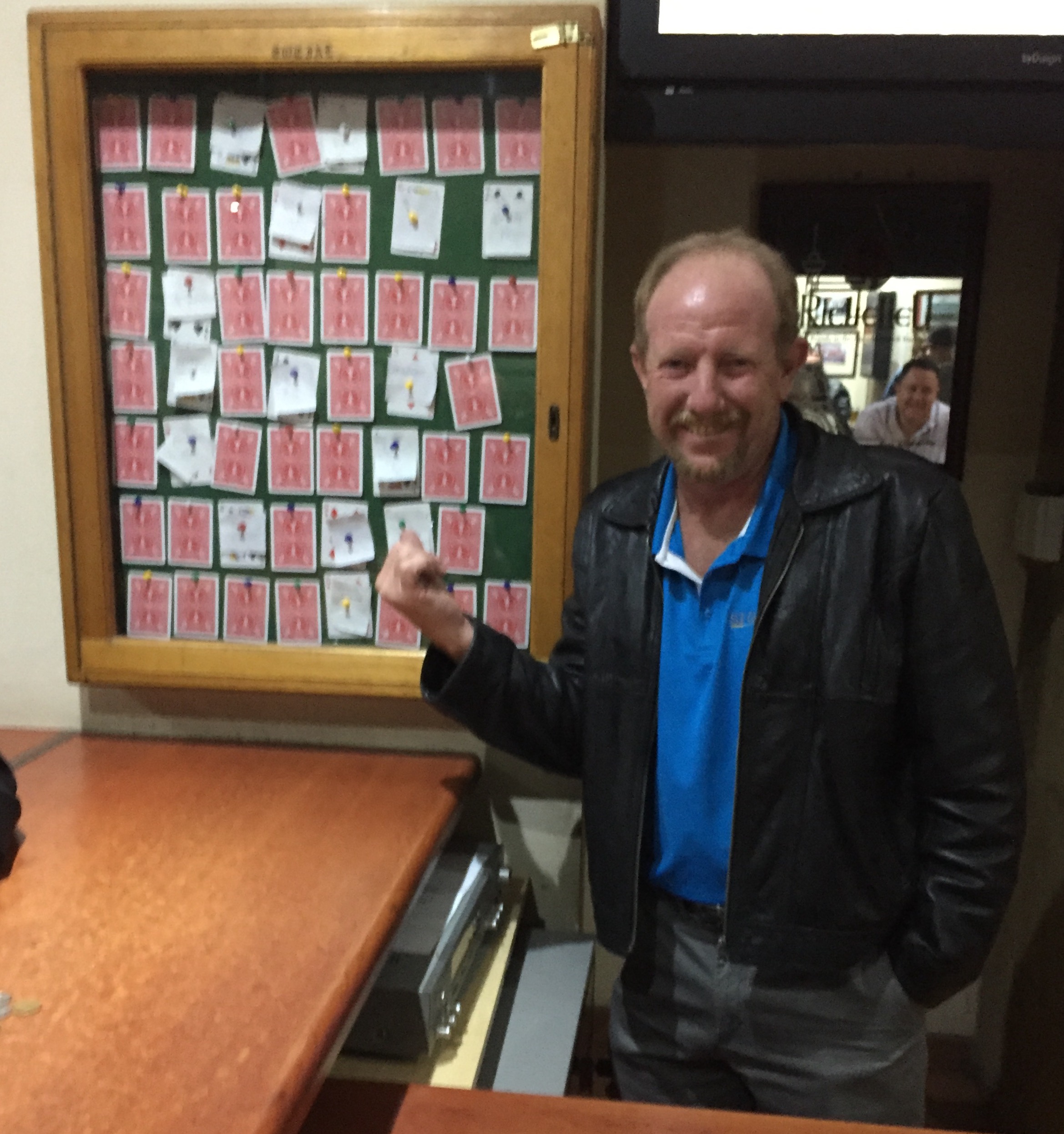 Harry James Hawkins "Fonzy" from Hockey drew the Ace of Diamonds
MAIN CLUB A.G.M.
IN TERMS OF THE CONSTITUTION IT IS OUR INTENTION TO HOLD THE ANNUAL GENERAL MEETING OF
BENONI NORTHERN AREAS SPORTS CLUB ON THURSDAY 11th MAY 2017 AT 19H15 IN BENONI NORTHERN AREAS CLUB HALL.  ALL MEMBER ATTENDANCE WILL BE APPRECIATED.
---
 ATHLETICS
BNAC Bus at the Colgate Run – 07th May 2017
Colour Run – Benoni Northern Sports Ground – Sunday 21st May 2017
---
CRICKET
Senior 2015/2016 Season Prize Giving – Saturday 13th May – Benoni Northern Sports Club – R120.00 per head.
CRICKET SUB-SECTION A.G.M.
ARE HOLDING THEIR ANNUAL GENERAL MEETING OF ON WEDNESDAY 24th MAY 2017 AT 19H15 IN 
BENONI NORTHERN AREAS CLUB HALL.  ALL MEMBER ATTENDANCE WILL BE APPRECIATED.
The Winter League saw a true nailbiter when the Under 11 Northerns side met Curro Under 11. Curro were restricted of 146. A fantastic run chase ended in Northerns losing all of their wickets for a total of 138, falling short by 8 runs. Mentionable performances – Bowling: Quan 2/9 off 3 overs, Batting: Quan 32, Owen 25.
---
FOOTBALL
Last Game Match Results
Super League 1st beat Corinthians – 6-0.  Super League 2nd took a walkover due to no show – 2-0.  3rds Drew with World Net 1-1.  4ths beat Alberton – 4-2.  Colts A beat Benoni Spurs 7-1.  Colts B lost to Benfica 4-6.
---
HOCKEY
LADIES FIXTURES: Sat 13/05/2017 12:00
POOL A – Benoni Northerns A – Fossils vs Benoni Northerns C – Ya Ya's St Dunstans 12:00
POOL B – Old Bens B – Stompers vs Kempton Park A – Cougars EGHA Field 13:20
POOL B – Old Dunstonians B vs Eagles E.G.Jansen St Dunstans 13:20
POOL B – Reiger Park A vs Benoni Northerns D – Angels EGHA Field 14:40
POOL A – CBC A – Chargers vs CBC Ladies B EGHA Field 14:40
POOL A – Old Dunstonians A vs Benoni Northerns B – FTC St Dunstans 16:00
POOL A – Old Bens A – Chirpettes vs Benoni Northerns E – Falcons EGHA Field
BNJH U7 side at Khosa 2017. Super proud coaches, they played like champions.
---
RUGBY
13th  May – Senior fixtures
AT

SASOLBURG

SASOLBURG
 v
BENONI
  ………
    Time: .15H30
AT

VUT

V U T
 v
NIGEL
  ………
    Time: 15H30
Junior Rugby Club : Season Date's
19 June               Monday Season Starts (Schools In finals exscluded)
24 June               Saurday Players Registration
24 June               Saturday Friendly Vereeninging Home TBC
29 July                Kempton RD1
5 August             Bobbies (Stofberg) RD2
9 August             Sevens Leg 1 TBC
12 August           Suikierbosrand RD3
19 August           Elsburg RD4
26 August           Vereeninging RD5
02 September   Springs RD6
9 September      Boksburg RD7
16 September Benoni RD8
23 September             Brakpan RD9
25 September             Sevens Leg 2
29 Sept-2 October     Club Tour EXCO Brits under9-10
5 OCT-8OCT              Club Tour Exco Brits under11-12
14 October                  Playoffs Delmas
21 October                  Sevens Leg 3
27-28 October           Sevens Exco TBC
---