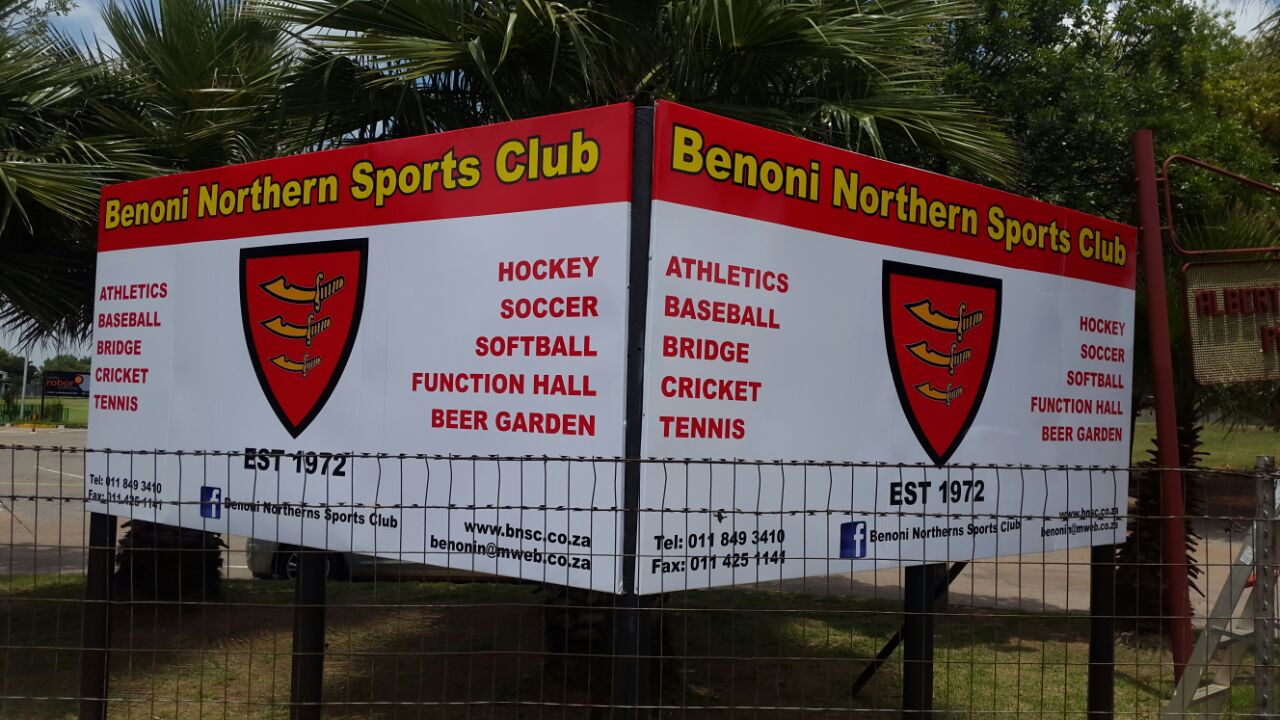 BNSC NEWSLETTER
Good morning to all….
Hope you are all well rested after a long weekend…there was very little Club sport this weekend…but that doesn't mean our Members or Club was quiet over the weekend…we had runners who took on the Two Oceans Ultra, Baseballers at their provincial tournament, hockey players on the Astro…and plenty of our Members either spectating at the Easter Festival at St Dunstans or spending their time at the Club, watching the Feast of sports available on Television….
Our Soccer players make their first appearance at the North this weekend…and are hosting the league Champions from last year, Randburg… so our players will appreciate your superior vocal support in their quest to overcome this very consistent outfit….join us at 13h45 for the second side and 15h30 for the firsts….
There will be a spectacular exhibition match on the Northerns 'C' field on Friday night at 19h00 between the ELFA District Colts side (which includes a number of our successful Northerns Colts from last year) are playing a match against a touring Cape Town Hellenic Academy side…this should be a fantastic match so if you are a football fundi, please come along to watch this spectacle….
Our Baseballers were involved with the Provincial tournaments last weekend and from the reports received, there were many lessons learned, some taught, but a great weekend of baseball experienced…Well done to all the players and coaches…and I have it on good authority that two of our very active Baseball Members, Richard Greenslade and Shawn Schwartz have been selected as national U23 hitting Coach and U15 assistant Coach respectively….well done guys…you are putting back your experience gained in the sport and have been recognised as the best in your fields…we are extremely proud, as you should be too…
Saturday saw the annual running of the Two Oceans Ultra Marathon….I was an ardent armchair supporter…and whilst I was in awe of the "most beautiful ultra in the world" (whether it was of the runners or the magnificent scenery) I seriously doubted if a lot of the runners were able to appreciate the beauty in which they were participating…..it was a real eye opener to see the wonderful spirit in which all the competitors interacted with the crowd and each other…it makes me feel like I should start running…then I went out and walked 5 k's on Sunday and vowed that I would never even let that thought cross my mind again…I am a far better armchair contestant than an active participant…to all our Members who ran and competed well done…I trust that your preparation for the Comrades is still on track…I was able to spot our beloved red shorts and yellow and white vest on the route…it made me swell with pride each time I saw it…I think my wife got tired of me shouting "There's one of us!" and scrambling up to the TV to try and see if I could recognise them, but by that time they had run passed or the TV picture had zoomed onto another scene of action…
Northerns also played host to the part of the Hockey action at the St Dunstans Easter Festival….and I was able to watch some really good hockey…while some of the teams seemed to take a bit of pressure toward the end of the weekend with injuries and tired legs….I think it was really a "looong" weekend for some….the word from both the participants and organisers that it was a great weekend of sport…well done to all concerned…
Our Cricketers are into their "play-offs" and are on Saturday involved in the second versus third match…and their opponents are United (who have replaced Alberton, due to some administrative shenanigans)…the match will be played at Willowmoore Park, with the winners progressing to play Kempton on Sunday…so it could be a tough weekend for our fellows with two full matches in two days…we may have some really tired bodies coming home here on Sunday…lets hope it is with the trophy boys…..
Rugby have their first match of the season and are off to Meyerton to lock horns there…I see that there has been an increase in numbers at the practices, I hope that increase in interest and attendance makes a difference on the field too…Good luck for the new league and season boys…
Hockey will also start up this weekend…so be aware…it will be a busy day at the North….Saturday has a full house of ladies fixtures, with St Dunstans and St Dominics also having their share in the mix…while on Sunday, the men will descend on the North to display their skills both on and off the field…
Our social start to the festive Easter weekend was awesome…a night market…great band and with neither of the Club nor Joker draws being won…it gives all those who were away have another chance this Friday to try their luck at both of these…the selection at the Joker draw was quite interesting, as the last person to purchase tickets was drawn out, Jos was the lucky name and his selection process didn't reveal any hidden talents, the three of hearts was his choice…with the draw not being won means that the jackpot climbs again…and this week we are up to R71 360…and we have 42 cards left to choose from….11 weeks have passed since our last winner…is it going to be won this week…be here to find out if it could be you chasing that elusive Joker…our band this week is the Zimmer Twinz…who have the knack of filling the dance floor…so get ready to boogie the night away…and start the weekend with some sure footing…
With winter approaching we are starting to get into our busy period…almost a full house of home matches, with only Rugby playing away….so start getting used to some busy weekends here for the next few months….I'm looking forward to some really good fun….
Phew….Can't believe it, I have been doing these front page messages to you for a year now….if you're getting tired of the format, think something needs improvement here or at the Club, please drop me a line at rod.scheepers@gmail.com
Cheers  Rod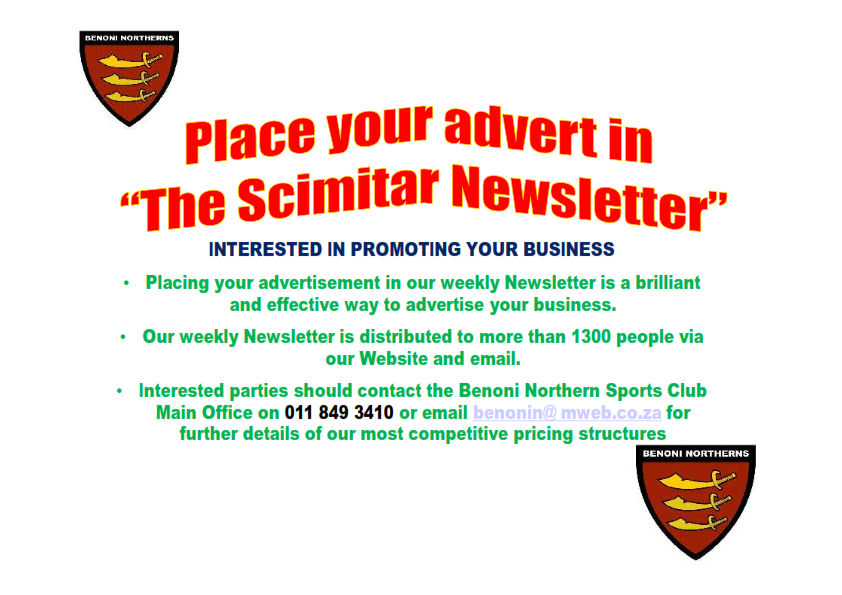 "SCIMITAR BAR"AND BEER GARDEN OPENING AT 12H00 EVERY FRIDAYS – SERVING PUB LUNCHES
Joss Van Rykel (Guest) drew the 3 of Hearts. Joker Draw another turnover for Friday 06th April – R71360.00. Be there to win it!!
"Zimmer Twinz" will be entertaining us on Friday 06th April at 18h00
---
ATHLETICS
Another successful Two Oceans Ultra Marathon. This is certainly one of the most challenging yet rewarding races to participate in. Alex Harris
Bring on Comrades 2018  
 
---
  BASEBALL
Congrats to the BNBC Members who are selected. Well done Guys!
---
 CRICKET
The transfer window has officially opened on 1 April. We at BNCC want you! If you are looking to transfer or just want to get a early registration in for next season, kindly send us a DM and we will assist. All welcome
---
FOOTBALL
The U17 Easterns Local Football Association District Team from 2017, which comprises of numerous Benoni Northerns Colts "A" Team players will be playing a friendly against Hellenic's FC Academy Team from Cape Town on Friday the 6th April at Benoni Northerns football grounds, kickoff at 7pm on "C" Field.
---