BNSC NEWSLETTER
Hi there all….
A well needed  break and long weekend for the office staff…and it looked like all the Members took some time off too…so all the Club staff also had quite a relaxing weekend too….but the storm is still coming…we had another roll over on the Joker Jackpot…so now the winner stands to win over R160 000!!! More about that a little later….Our older hockey players went through to the Grand Masters in Joburg for their annual tournament, whilst our football elite, popped down to Durban for the weekend for some high energy provincial matches…and Tennis hosted a fun day on the Sunday of the long weekend.
Our Tennis Club has recently had two of their courts resurfaced, so they used the opportunity of the long weekend for fun day with Members and visitors joining in the day. Reports coming back, say that it was most successful, sun, sport and some sparkling refreshments being the order of the day.
Some of our Soccer Members were selected to play for the Eastern Gauteng U20, Senior and Veterans…and they popped down to the seaside at Durban for the weekend to play in a mini tournament. It was a most successful outing, with 5 of the 6 sides winning their respective groups…and all the players coming back a whole lot wiser and happier for the experience and opportunity to play…well done to all the players, coaches and administrators that proudly represented us.
Sandton played host to the older brigade of hockey players, with Grand Masters from far and wide descending on St Stithians for their annual tournament…..there were selections up for the International Grand Masters Tournament next year, so competition was keen and fierce….but the after game drinks were as always enjoyed by all…congratulations to those who have made their respective SA sides….do yourself proud next year.
We started our weekend off with a marvellous Friday night…it began with our junior cricketers having their first "official" practice of the year….so the Club had masses of activity….with the familiar sound of leather on wood resounding around the fields…and excited parents watching their off spring as the new season begins….hopefully the excitement and enthusiasm displayed will continue….
We then had our Members draw, (in which a pair regular attendees number was drawn, but unfortunately they had family visiting, so weren't present…)…so up it goes to R4 000….followed by the Joker draw….and we had a real regular, Aliaster having his opportunity to show us his ability to find the Joker…. fortunately for the baying crowd, Aliaster could only find the six of clubs…and the Joker remains elusive for another week….it means that there is another chance for all of us to get "lucky" and have a go at uncovering the joker and winning R162 123 this week. And to add to this week, we will have the return of our regular night market…with their variety of food vendors to tempt your taste buds and some craft and goodie stalls that will be exhibiting a multitude of different wares….so come to have a special Friday with us…..as usual, we will be having live music too, with the very popular duo of the Boycott Ballad entertaining us…. Adam has a unique voice and they have the ability to make many ordinary covers into extraordinary…..we are also hosting the Classic Movies in the Park, in conjunction with our local Round Table….this is the second month of us trying this event…the first, albeit a tad fresh on the evening, was a great success…with families lounging around with their picnic blankets…hopefully as the weather warms up, we will be able to enjoy some sumptuous entertainment in this fashion again and again… Friday looks like a busy evening…and Saturday we host woman's soccer tournament and on Sunday cricket matches return to the North, with the official T20 setting the season off in style… watch this space for a summer of fun…..
I attended the Baseball AGM last night…and with the new season on them, it looks like exciting times ahead in this sub-section…all the best to you guys…
The renovations are almost done…and the Club is looking amazing…the well needed facelift is complete…hopefully all the Members feel the same as I do…that the Club has taken a major step forward and the premises now portray the vibrancy and vision of the Members….
If you believe we are going in the right direction, contact me on the email listed…..and even if you don't and have some suggestions…. let me know on rod.karoe@gmail.com
Have a great week….see you at the Club soon
Look after yourselves….
Rod

Friday Night Club Draw RESULTS: 22nd September 2017
Member Weekly Draw:  2 x Cases SAB:  Regard Verster (Cricket) – Not Present
Club Member Draw: R3 800.00:  Mel Smith (Athetics) – Not Present
Winnings now stand at R 4000.00. for 29th September 2017 at 19h00
Weekly Raffle Draw:  1 x Case SAB: Brad Knight (Social)
Matts Meat Voucher: John Ansell (Athletics)
"SCIMITAR BAR"AND BEER GARDEN OPENING AT 12H00 ON FRIDAYS SERVING PUB LUNCHES.
Aliaster Hamilton(Social) drew the Six of Clubs. Joker Draw sitting on R162 123.00 for Friday 29th September. Be there to win it!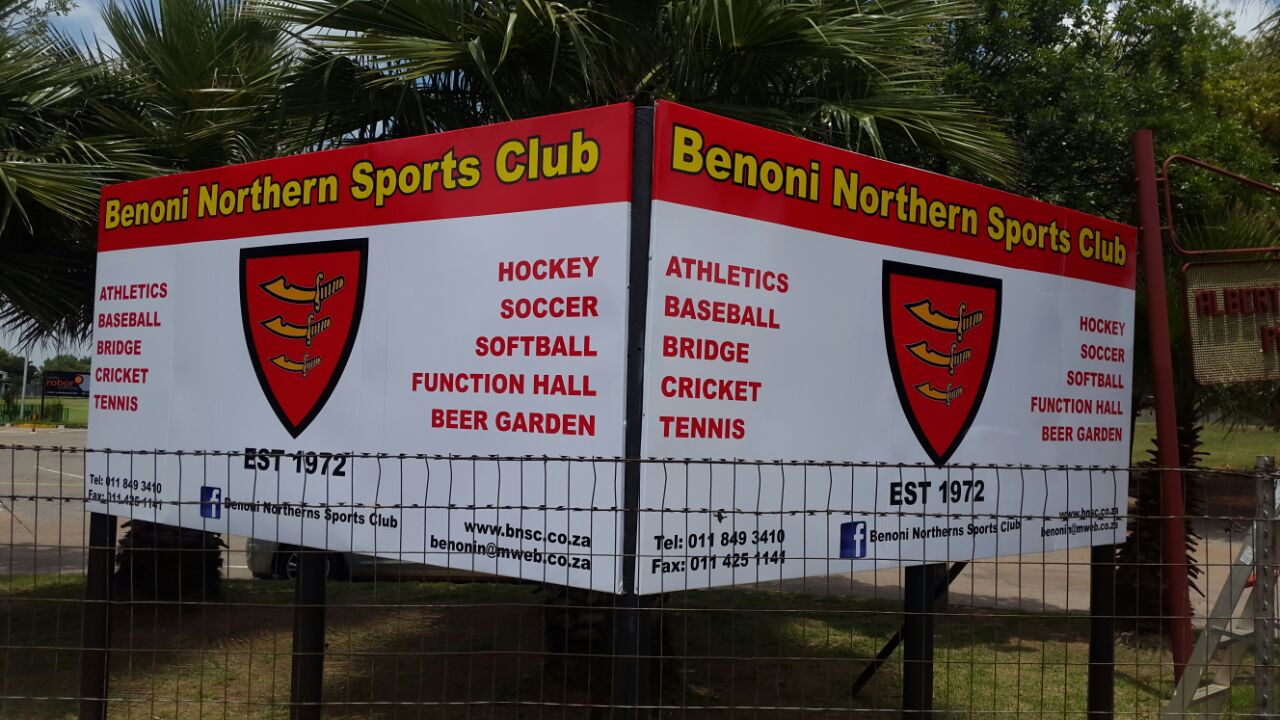 At the Ekurhuleni Recognition Awards held on Sunday 24th September.  Benoni Northern Sports Club was the proud recipient of the "Best Administered Sports Centre".  Well done to all concerned in making this happen.
BLAST FROM THE PAST
---
ATHLETICS 
Couldn't resist sending you the latest update.     We're ahead of Irene albeit by only 1 entrant! 
Second of the Community Clubs and if you combine the 3 Vitality regions, we're third overall!   We've never been this high in our history.
Comrades entries have already been increased from 20000 to 21500, and they have reached this revised limit.       
Derek Wright – Chairman
The impressionable Kristian Fesel. Nothing can keep this man down. — at Cape Town Marathon
BNAC 2017 Comrades Green Number Function Wed 27th from 19h00 at "The North"
---
BASEBALL
4th to 7th October 2017
South African Masters Baseball Championships
Valhalla Baseball Fields
Montague Kneen Park
Broadway West
Valhalla
Participating teams : Gauteng, Easterns, Northerns, SW Gauteng, KZN, Eastern Cape, Western Cape
Divisions : Elite Masters, Social Masters, Veterans
---
CRICKET
---
FOOTBALL
Our KZN senior tour has come to an end, a successful long weekend with 5 of our 6 teams winning their respective age groups, a big thank u to Shane the Pinetown LFA chair and Grant the Forrest Hills FC chair for hosting us and their warm hospitality.
For all the League Standings visit http://playerpassport.xpac.co.za/Public
VETS AND LADIES FOOTBALL START THEIR LEAGUE GAMES IN OCTOBER 2017. REGISTRATIONS ARE OPEN OPEN FOR EAGER PLAYERS.
SENIOR PRIZE GIVING TO BE HELD ON 21ST OCTOBER STARTING FROM 10H00
---
HOCKEY
FIXTURES: CRUTCH TOURNAMENT – SUNDAY 01ST OCTOBER – 08H00 – 13H00
---
RUGBY
---