BNSC NEWSLETTER
A warm welcome to all our Members and Guests who may happen to read the Scimitar
After all the flooding in the country last week, it was great to return to some sunshine and normality this week… but with the rain we now see all the beautiful colours of summer and lots of green grass peeping through….and as the grass is growing again, we have Brian, Victor and all the Council team working hard at cutting, trimming, weeding and sweeping to clean up all our wonderful grounds at the North…and now some really good news for Brian and his team (and all the Members playing sport here)…we have been able to procure another Toro Reel Mower, which means that we are not relying merely on the one mower that we have as we now have a back up!! With that back up, we now have peace of mind that our fields will be able to be maintained on an ongoing basis without interruption….A massive thank you to Andy Dudley, who has worked tirelessly behind to scenes, searching everywhere for this backup….Thanks Duddles, your efforts are greatly appreciated…..
For all those who are interested in the Joker draw….Shaun Taylor (a past Hockey Chairman) was selected from the "beeg black box" as the lucky participant….but was only able to find another of the Aces.. this time of the Heart suit….so we have another roll over….with only 14 cards left and R181 647 up for grabs….it should be another cracker of a Friday night coming up this week….our Members draw was also not won…so that escalates by another R200 and now stands at R4 600….We host Coyote in the Scimitar and Beer Garden this week….so make sure that you are there….the Members draw at 19h00 and the Joker draw at 19h30 with last tickets sales at about 19h20….with our old favourites Billy and Martin to keep our feet tapping…..
We saw the end of the Soccer season at the North on Saturday, with plenty of talent on show at all the Easterns Junior Cup Finals…I always love to watch the excitement, enthusiasm and energy that the players display….each and every player feels like he is playing at FNB stadium in the Premier league and they give their all….there were plenty of smiles and also a few tears of disappointment were shed…congratulations to all the winners…well done…but thoughts are also with those who weren't able to pull the winners medals over their heads…tough luck…there will always be a chance of another opportunity. Perhaps that will be your time…. well done to everyone involved from Easterns Football organising committee…the day was a great success…(a big thank you to our unsung heroes, Rodney Farrell and his Soccer Committee, who ran around all day to ensure that the day was such a success… your efforts are valued and appreciated…thank you)
Our cricketers were also back in the fray…after the wash-outs of last weekend…and the Premier side were busy with their 20 over competition…they won their match and have qualified for the semi finals on points….we await to hear where and when these will be played…..with plenty of Junior and Senior matches completed over the weekend… there was a unanimous cheer on the quality and condition of our fields….well done to Brian and his team…your efforts have not been in vain!!
Baseball (Seniors and Juniors) have also started their season and with Brian turning his attention to their fields…they are expecting top notch playing surfaces in the foreseeable future.
Our Athletics section held their AGM last week…another very successful year of running was announced, with some disappointments on financial front, with a rained out night race and a poor scheduling leading to a clash of events with our Marathon affected the numbers of participants and the consequent adverse effect on the bottom line of profitability….Outgoing President, Irish Wright, expressed his disappointment at  not being able to stay on in order to complete his vision and goal…but he has handed over to John Ansell, who will be leading the new committee this year to further success… Good luck to everyone concerned, it is a major task to be handed the responsibility of this large sub-section….
Bridge ran a very successful Tournament over the weekend…well done to Roy and his team…I have heard only positive comments and that everyone enjoyed their day…
Our renovations are complete…but I am sure that all the Members will be looking as to what we will be doing next… we will be adding little features and furniture…in line with our growth and promotion drive…so keep a look out for some exciting new ideas that we will be introducing as we proceed into summer….
I have noticed a worrying trend amongst our Members and their visitors….of bringing their puppies and animals onto the property….could I ask that this be stopped as a practice…it is in contravention of the Municipal bye-lays…but apart from the Law…there are also health issues associated…I don't want to have to go into all these, but could I respectfully request that no animals be brought onto the property…if Members do notice this occurring, could I ask that you exercise your rights as a member and request them to refrain from this practice…..do not get into a conflict situation, nothing good ever comes of those circumstances.
We have the Senior Soccer prize giving this weekend, with Baseball and Cricket having full fixtures too….Summer Soccer is in full swing with two ladies and two men's teams competing in their respective night leagues… while Tennis will be busy as always, and the Runners have their time trials, Club run and their weekend runs as per normal….Hockey 5's will be starting on the Astro shortly…so we're still up for a busy summer…
Hope you all have a fabulous weekend…and if I haven't met you yet…please come and introduce yourself to me, I would love to meet you…If you have any suggestions or complaints and would rather do it by email…please send it to rod.karoe@gmail.com….
Cheers Rod

Friday Night Club Draw Results: 13th October 2017
Member Weekly Draw:  2 x Cases SAB:  Sonja Van Lienden (Athletics) – Not Present
Club Member Draw: R4 400.00:  Rivkah Grauman (Athletics) – Not Present
Winnings now stand at R 4 600.00. for 20th October 2017 at 19h00
Weekly Raffle Draw:  1 x Case SAB: Ossy Botha (Athletics) 
Matts Meat Voucher: Edward (Barman)
"SCIMITAR BAR"AND BEER GARDEN OPENING AT 12H00 ON FRIDAYS SERVING PUB LUNCHES.
"COYOTE" WILL BE ENTERTAINING US FROM 18h30- FRIDAY 20TH OCTOBER 
Shaun Taylor (Hockey) drew the Ace of Hearts. With 14 cards left winnings now stand on R181647.00 for Friday 20th October. Be there to win it! !
35th Annual Gauteng Toy Run – Sunday 26 November 2017
---
ATHLETICS
You can't get way from them , BNAC at the Amsterdam marathon … — attending TCS Amsterdam Marathon 2017 with Ross Kata, Barry Kendall, Pamela Truter-Kendall and Shawn Combrinck.
JOHN ANSELL – NEWLY ELECTED CHAIRMAN FOR BNAC
WEDNESDAY 01ST NOVEMBER 19H00 – 10km, 15km, 5km. Enter online or on the day from 5pm.
---
BASEBALL
ALL FIXTURES TO BE FINALISED
SHAWN SCHWARTZ RE-ELECTED AS BASEBALL CHAIRMAN 
---
CRICKET
Premier T20 Tournament
Semi-Finals – dates and times to be confirmed
– Pool A – Position 2 Pool B – Position 1
– Pool B – Position 1 Pool A – Position 2
Finals – date and time to be confirmed
WEEKEND FIXTURES
21.10.17 : 13H15  : Sat 1st vs S.O.B. – BNCC A Field
22.10.17 : 10h00 : Premier vs Tembisa – BNCC A Field
For all Junior Fixtures please visit our website www.bncricket.co.za
Sri Lanka Tour 2018
UNDER 12 SUPER LEAGUE TOUR OF SRI LANKA
We are excited to announce that, after lengthy arrangements with Sri Lanka Cricket Representatives, Benoni Northerns Junior Cricket will be touring Sri Lanka during the 2018 September/October school break. This will see Benoni Northerns Junior Cricket jetting off for its first international tour.
We want the boys to have a memorable experience, and in so doing, have worked the tour around 5 games at different venues within Sri Lanka. Boys will be embarking on some fundraising initiatives and we request the support of Club members wherever possible.
The Junior Cricket Committee is driving for this to be an annual event and we are committed in ensuring that the first tour is a major success.
Donations can be made by transferring directly into the Benoni Northerns Main Club Account or by cash payment at the Main Bar. Please use the following reference – #SL2018.
The support from Club Members will be greatly appreciated.
For more details, please email Brendan: tours@bncricket.co.za
---
FOOTBALL
LAST GAME MATCH RESULTS:
11.10.17 – Vets Div 3 beat Old Bens – 4-3
11.10.17 – Vets Div 1 beat Olympia (B) Vets Div 1 – 3-2
13.10.17 – Ladies A beat Olympia – 2-0
VETS FIXTURES
18.10.17 : 20h00 : Vets Div 3 vs Boksburg Div 3 (At Home)
LADIES FIXTURES
19.10.17 : 19h30 : Ladies (A) Div 2 vs Highlands Park Div 2 (At Home)
23.10.17 : 19h30 : Ladies (B) Div 2 vs Old Bens (B) Div 2 (At Home)
BNFC wishes to our Veteran Footballer "Andrew Hartley" a good journey and extend all the best for his new challenges and adventures in the UK.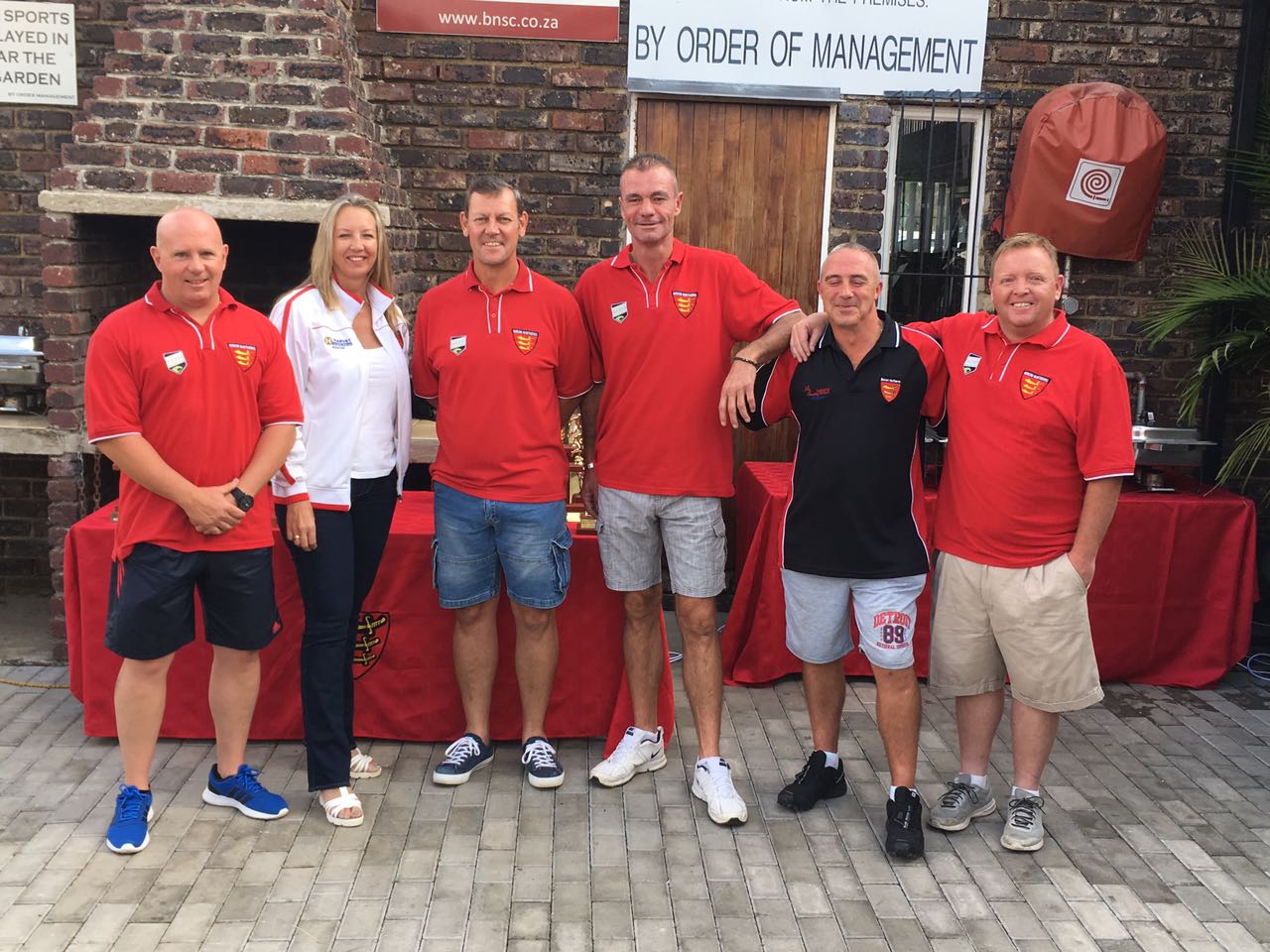 SENIOR PRIZE GIVING TO BE HELD ON 21ST OCTOBER STARTING AT 10H00
---