BNSC NEWSLETTER
A hot and humid good morning to everyone…
Finally some summer weather has greeted us for the last few days and what a weekend of fun and happiness was experienced at the North….our usual Friday fare of fun, schools T-ball competition at the Baseball grounds, our Main Club's gala event of the year, the Sportsperson of the year Dinner and Awards, cricket against our Arch-rivals….and international rugby to boot….
So let us begin at our usual Friday night fun at the North…. it all started off with junior cricket practice….an exciting night cricket match for our future cricket Protea stars….and our live entertainment in the form of Freedom Unfound…who rocked the night away at the North until late into the night….I usually only get complaints late at night about the noise levels at the Club…I actually received a compliment from one particular resident who enquired as to who the band was and when were they scheduled to play again, as they would like to come and see them…so well done to Ryno and his boys for even getting the locals to enjoy his particular brand of music….we completed our members draws and raffles without much fuss….but everyone was really waiting for the big one…the Joker draw….which stood at R89316 for someone to take home…there was a hushed silence while I scratched around in the beeeeg black box for a ticket….the name drawn was one of the Athletics superstars and stalwarts, all wrapped into one….Dieter Stapel…..he has completed more Comrades Marathons with silver medals, than there are Springboks in the starting line-up!!, but is also a faithful Club member and regularly is seen on Friday evenings…back to the joker draw…Deiter decided that his selection would be in the bottom left corner (but one)….unfortunately his guess turned out to be the eight of hearts….and means that with the roll over moves the Jackpot up to R91 299…..and means of course that our chances of finding the Joker are improved as we move toward week 25 of our current draw… Adam (Boycott Ballad) will be performing for us with inimitable style which has created a large support base of regulars at the North….
Saturday morning was a hive of activity of junior summer sporting codes….with a full house of junior cricket…whilst the Annual T-ball competition hosted by the Baseball section proved to be a massive success….with all the fields filled to capacity…well done to Shaun and his crew of volunteers that all added to the successful day…
Saturday evening the North played host to the Annual Sportsperson of the year competition…a glittering affair…with plenty of past winners, chairmen and stalwarts of the Club joined to honour the sporting achievements of the various individuals proposed by their respective sub-sections….The Junior Sportsperson of the year for a phenomenal third year in a year comes from the Football boys…..Andisa Hola was chosen….as part of the most successful Colts team….Andisa is a worthy winner to hold the current mantle…well done young man, hopefully we will find your name engraved on the senior trophy soon too…. The competition in the senior category was fiercely competitive (as always)….but the top achiever this year, selected by the independent committee….was Aron Visser…a young man only nineteen years old…his talent has already been displayed at the Easterns semi pro level at the Africa cup… he also represented Tukkies at the Varsity Cup and has played for the Easterns Academy side…he is an integral part, showing experience way above his year,  of our first side and we can be proud to have such a great young player in our ranks…Congratulations to Aron…the evening was a resounding success and was thoroughly enjoyed by all….
Sunday saw the rivalry between Kempton and our Premier cricket side renewed (these two sides have maintained their position as the top two sides in the league for the last few years now…and Sunday proved to be no exception….) Kempton won the toss and had no hesitation in sending Northerns in to bat…on what would prove to be a very difficult pitch to bat on….but our batsmen showed resolve and were moving along pretty nicely at 114/3…before a mini collapse saw us at 163/8….cometh the hour…cometh the men…and Stefan Jordaan and WP Myburgh got together…battened down the hatches…and as time progressed…changed from defence into attack….and slowly by surely,  the score mounted and the partnership grew…10, 20……50, 60….80, up to 90…with some vociferous crowd support who were hoping for a century stand to literally put the nail in the coffin…the the  pair adding 91 for the 9th wicket….giving Northerns at least a target to defend…. as soon as Kempton started their innings, they realised that it was going to be a difficult task to achieve the target set…soon they were 37/4…but they did recover to 137/6…before the Northerns attack demolished off the tail….skittling the opposition for a mere 169, scoring a significant win by 85 runs….in fact, a magnificent win for the boys…but a special mention of the bowlers…Kundai bagging three wickets, two each for Stefan (one of the batting heroes), Stefano and Leonard…while WP also added a wicket to his batting heroics from earlier…a proud moment in the history of the Cricket sub-section…..Well done guys…a great day…
On the International rugby front…our Springboks pulled the proverbial rabbit out of the hat…to score an 85th minute try to secure a three point victory over the French… after the disappointing loss last week…it makes us all feel a little better…..albeit there could be critics saying that we were lucky….I will accept the win after the difficult time last week….
If you believe that we could be doing our job better at the North…please send me an email to rod.scheepers@gmail.com and tell me where we could improve…even if you think we're doing okay, please let us know…thanks for all the feedback…it is greatly appreciated…
Have a great week…take care,
Cheers, Rod
   
Dieter Stapel (Athletics) drew the 8 of Diamonds. Joker Draw a turnover at

R91299.00

for Friday 16th Nov. Be present to win it!!
ADAM BOYD WILL BE PLAYING Solo from 18h00 on Friday 16th November

.
BENONI NORTHERN SPORTSMAN OF THE YEAR AWARDS – 2018 
 JUNIOR NOMINATIONS:
* Athletics – Rachel Schwulst
* Baseball – Robert Emmett
* Cricket – WP Myburgh
* Football – Andisa Hola
* Hockey – Nikita Klopper
* Rugby – Stephan Smith (Not present)


🏆

WINNER – ANDISA HOLA – FOOTBALL

🏆
BNSC SPORTSMAN OF THE YEAR 2018




* Athletics – Bright Mikolongwe




* Baseball – Anthony Sayers




* Cricket – Aron Visser


* Football – Daniel Suffield
* Hockey – Dale Griffiths (Ashley George stand in)
* Rugby – Jay Botha


🏆

WINNER – ARON VISSER – CRICKET

🏆
🏆

BNSC MERITORIOUS ACHIEVEMENTS 2018




* Life Member – Shaun Taylor


* Clubman of the Year – Bob Foster

🏆
---
Entries for the Two Oceans ULTRA marathon on sale 13 November 2018 at 10:00.  Update/create your race profile now to ensure ease of entry.  www.twooceansmarathon.org.za

 This years end of year function "Cowboys Wild Wild West Rodeo"

🤠

is happening 24 November 2018 at the Benoni Northerns Sports Club!  Dress up and come join us for one last show down as the year draws to a close!
Let either Aimèe (082 857 3031 / bnacevents@gmail.com) or Madge (madge@bnac.co.za) know if it's Yay or Neigh

🐴
R150 secures your spot, tickets are limited.  Hope to see you there… Yee-haw!!!
---
CRICKET
Senior Results 10-11 Nov
Sat 1sts lost by 103 runs (United)
Sat 3rds won by 7 wickets (Kempton)
Sat 4th won by 2 wickets (Wattville)
Ladies won by 8 wickets (Wattville)
PREMIER WON BY 85 RUNS (Kempton)
Prem Reserve lost by 43 runs (Kempton)
Directors won by 8 wickets (United)
Colts won by 258 runs (Tsakane)

---
FOOTBALL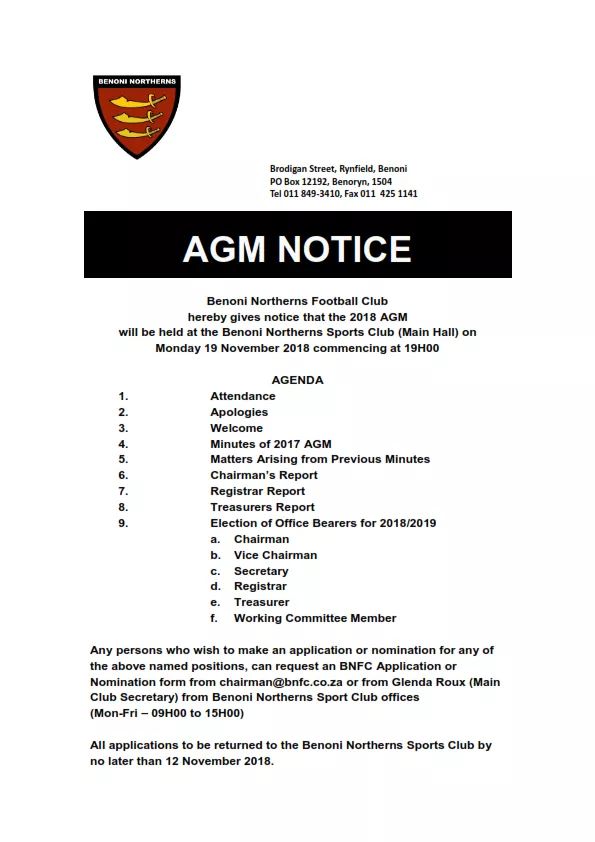 ---