BNSC NEWS
Hi there to my Northerns family…
We had a little time to breath over this weekend, it wasn't as hectic as the previous few (possibly the calm before the storm!)….The runners were all checking on distances and routes for their Robor marathon for next weekend…cricketers were preparing for their winter league and upgrading the main cricket pitch, soccer played away and our grounds were really quite, whilst hockey were dead quiet, awaiting the oncoming season.
You'll see a stretch tent at the Astro awaiting the visiting schools for the St Dunstans festival, there is going to be some excellent hockey this weekend, please come and support the future hockey stars. There is also an excavator being used to level the area on the western side (next to Hanekam Street), which is to be paved and the technical area is being set up. You will also notice that the light poles that have been lying next to the Astro for the last 12 odd months have been removed!! Progress…
The Athletic section have their big race next weekend…the Robor Scaffolding Marathon will take place on April 23rd, from the Northerns grounds. This is a massive event and all the members of our Athletics section will be out there…whether it be on the road marshalling, in the office issuing numbers or the myriad of different functions that have to be completed. We all wish them well for a fantastic day and wish them every success for the event. There will be road closures and some really busy roads around Club…please plan your route accordingly on the day of the race.
And for some more exciting news… From May the 1st, Benoni Northerns will have a Rugby section. Their home ground is to be across the road, on the B cricket field alongside O'Reilly Merry Street. The light poles, that were removed from the Astro field, will be re-erected on these fields shortly by the Rugby Club in order for them to host evening practices. They boast 3 senior sides (approximately 80 members) and also bring along a Junior section of about 300 young members. I'm really excited about this new development and honestly believe that they will add real value to the Club. May I take this opportunity to welcome Lourens and his boys to the North….we trust we will enjoy a valuable mutual association….and you will be as proud of and dedicated to the North as we all are.
The senior Soccer side travelled to Alberton last weekend and returned with a disappointing 2-1 defeat, but lessons were learned and management is sure that this was a timeous "wake-up" call. Reserve league coach, Fish, went to great pains to tell me that his side stood up to their challenge and returned victorious and are now top of their respective league…Well done…On Sunday there was a festive atmosphere in the Beer Garden at the Vets and Ladies Soccer prizegiving. It was heart warming to see the sides proudly displaying their different after games shirts of red and black with our Northerns logo prominently emblazoned on their chests. Congratulations to all the prize winners…and thanks to all the players, coaches and spectators for another really super summer soccer season here at the North.
As mentioned, the cricket section are busy upgrading their pitch on the main field, whilst nets have begun for the junior academy and the junior winter cricket season will commence shortly.
Our baseballers are also gearing up for their really busy season and we wish them well…may you have a great season.
To all those who frequent our bar facilities, you will notice that our new point of sale system has arrived….I'm positive that this will improve our efficiency and delivery of refreshments to our members. As a management tool, we will be able to order, control and analyse our stock more effectively to ensure that service levels to our members will improve. As members, you will receive the paperwork substantiating your purchases and in time and our members will be able to participate in the improved functions of a computerised system. Please have a little patience if there are any teething problems, I'm sure the hassles will be short lived. This is a fairly daunting task to be tackled, we have maintained the same system for a very long while, but I am confident of our staff ability to master all the mysteries of the functions that are initially encountered in a very short time span.
I'm certain most of the Members have noticed that the Beer Garden is being increased in size. This is to accommodate all our Members at our really busy periods and should be a welcome addition. We believe that the Members will really enjoy the increased area of this popular spot.
That's my lot for today…if you are travelling over the long weekend, please take care…we'll see you after the break…to those staying here, we are open as normal, check the operating hours displayed around the Club, but just no joker or members draws this week… if you have any suggestions, quirks or qualms, please let me know on my personal email rod.karoe@gmail.com
Yours in Sport
Rod
EASTER WEEKEND BAR OPENING HOURS
Friday 14th April 2017:        10h00 a.m. – 20h00 p.m.
Saturday 15th April 2017:   10h00 a.m. – 23h00 p.m.
Sunday 16th April 2017:     10h00 a.m. – 20h00 p.m.
Monday 17th April 2017:    10h00 a.m. – 23h00 p.m.
Friday Night Club Draw Results: 07th April 2017
Member Weekly Draw:  2 x Cases SAB:  Riaan Van Wyk (Athletics) – Not Present
Club Member Draw: R5 600.00 :  Gunter Stapel (Athletics) – Not Present
Winnings now stand at R 5 800.00
The next draw will be held at 19h30 on FRIDAY 21st April 2017
Weekly Raffle Draw
1 x Case SAB: Victor Shange (Staff);  Matts Meat Voucher: Annegret Neldner (Guest)


THE SCIMITAR BAR AND BEER GARDEN OPEN AND PUB LUNCHES WILL BE SERVED FROM 12H00 ON "THURSDAY 13TH APRIL"
Fred Mac drew "The King of Spades" 
Joker Draw Winnings was not won!!! Draw now stands at R 74 474.00 !!!! Which will be drawn on

FRIDAY 21ST APRIL

at 19h30 with the last ticket being sold at 19h15
COME AND JOIN US FOR A KAROEKE NIGHT ON THURSDAY 13TH APRIL IN THE SCIMITAR BAR FROM 18H00
---
 ATHLETICS
---
CRICKET
The following Benoni Northerns Boys have been selected to represent in the EJCCA winter program.
U12:  Ethan Edward; Evan Fouche
U14:  Owam Sithebe
U15:  Donavan Du Randt
U16:  Adrian De Vries
U17:  WP Myburg
CONGRATS TO YOU ALL ON YOUR ACHIEVEMENT
21-23 April 2017 Sahara Park Willowmoore
---
HOCKEY
"Not only will St Dunstan's be throwing the biggest and best Music Festival in Benoni this year, they are also hosting the premium Easter Sports Festival on the East Rand, so if you are a fan of Rugby, Hockey and/or Netball – make sure you don't miss the action on the 12, 13, 15 and 17th of April 2017."  EGHA Astro at Benoni Northern Sports Club will be hosting some of the hockey games.
---
FOOTBALL
Message from the Football Committee: Congratulations to the Vets and Ladies Football Leagues for their great Season and we are looking forward to the 2017 Winter League that is now in full session and with Junior Games starting the first weekend after the Easter Weekend.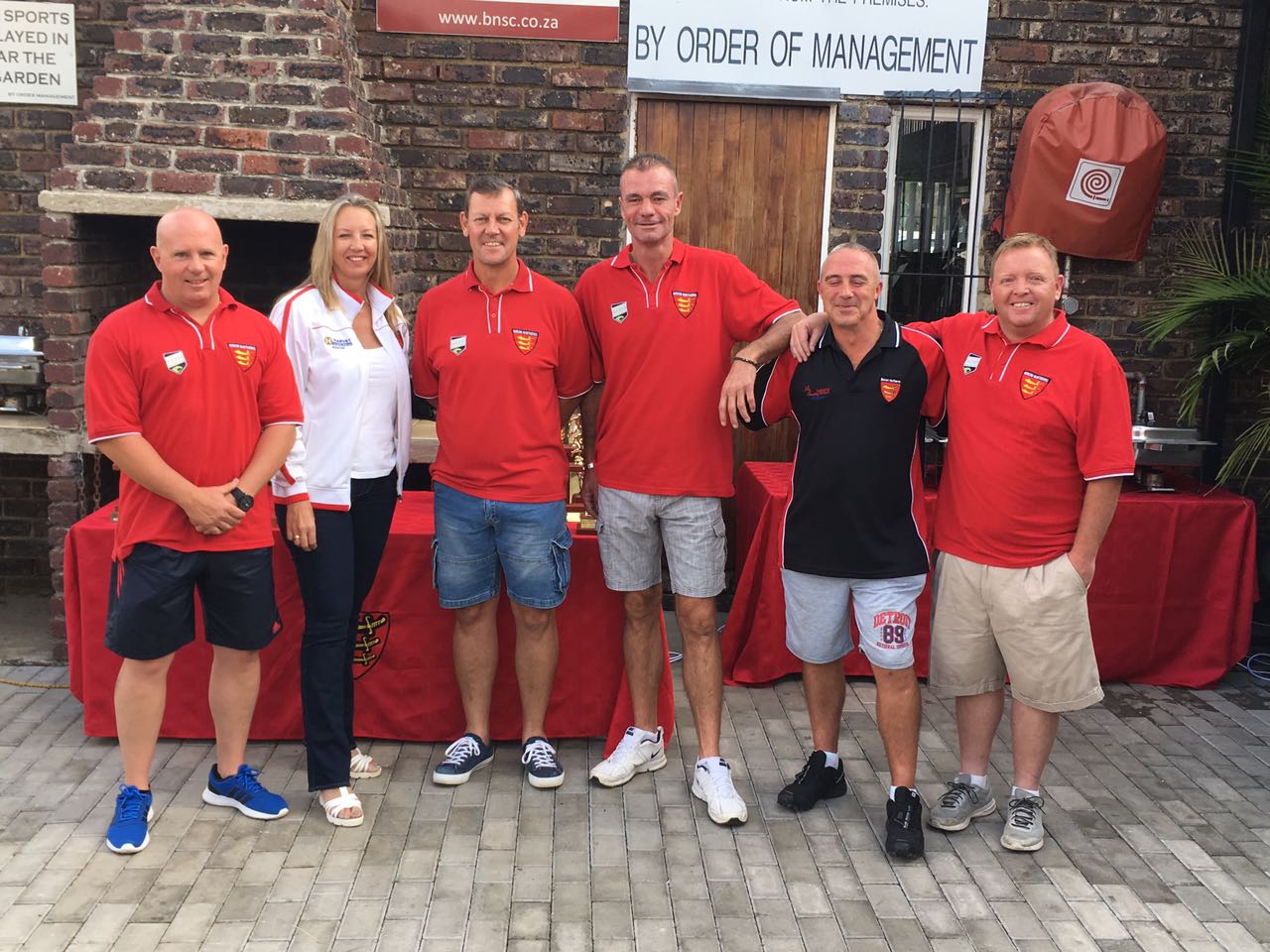 Last Weekend Results:  Premier 1st lost to Alberton 1-2; Premier Reserves beat Alberton 7-1.
---
SOCIAL
NOTICE IS HEREBY GIVEN OF INTENTION TO HOLD THE ANNUAL GENERAL MEETING OF THE 
SOCIAL SUB SECTION ON THURSDAY 20TH APRIL 2016  at 19H00
IN THE BENONI NORTHERN AREAS CLUB LADIES BAR
---