BNSC NEWSLETTER – 07.03.17
Benoni Northerns Sports Club has been highly recommended on it's Facebook Page as the best social; sports & recreational facility in the East Rand supported by awesome, supportive and friendly Members.  The Club was established in 1972 offering sporting affiliates such as Athletics, Baseball, Bridge, Cricket, Football, Hockey, Tennis and of course a Social Section.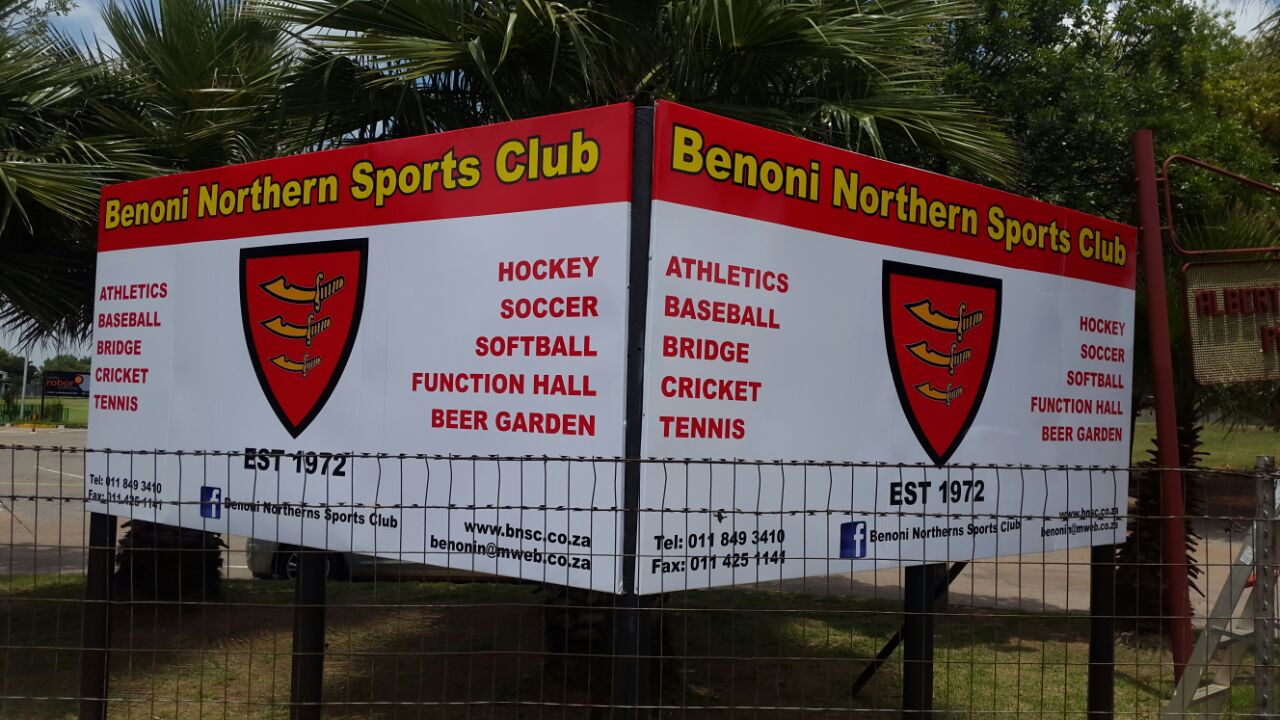 VISIT OUR WEBSITE ON www.bnsc.co.za FOR ALL UPCOMING EVENTS
Friday Night Club Draw:  RESULTS: 03rd March 2017
Member Weekly Draw:  2 x Cases SAB:  Diane Snyders (Athletics) – Not Present
Club Member Cash Draw: R4 600.00:  Morne' Fourie (Hockey) – Not Present
Winnings now stand at:  R 4 800.00
The next draw will be held at 19h30 on FRIDAY 10th March 2017
Weekly Raffle Draw:  1 x Case SAB: Ralph Cook (Social)  Matts Meat Voucher: Joe Van der Sandt (Guest)


"SCIMITAR BAR" AND BEER GARDEN OPENING FROM 12H00 ON FRIDAYS SERVING PUB LUNCHES
Joker Draw Winnings was not won!!!  Draw now stands at  R 64 100.00 !!!!  To be drawn at 19h30 on Friday the 10th March 2017 with the last ticket being sold at 19h15
GREG KNOWLES DREW THE 3 OF CLUBS
"DREAMCATCHER"  WILL BE PLAYING GREAT VIBES ON FRIDAY 10TH MARCH FROM 19H00 UNTIL LATE
---
ATHLETICS
42,2km Cape Gate Vaal marathon. Mpho Pilusa you are the best, thanks for believing in me.  # Zinikele#
Here are some more races in the MARCH month:
12th – Sarens Edenvale. 21 & 42km
18th – Om Die Dam. 21 & 50km
25th – Denel PTA. 21km
26th – Birchwood 10 & 21km
---
BASEBALL
JUNIOR BASEBALL PRIZE GIVING:  24TH MARCH 2017 :  
SENIOR BASEBALL PRIZE GIVING:  31st MARCH 2017
WELL DONE DAKOTA!!!
NBC 2017 Golf Day 10th March – Kempton Park Golf Course.  Help support our Benoni boys who made the Gauteng baseball squads
---
HOCKEY
---
CRICKET
Senior Weekend highlights:  
Prems won by 5 wickets:  Kundai Matigimu took 5 wickets
 Colts won by 10 wickets!
Sat 3rds won by 103 runs:  Kyle Winter took 5 wickets
Senior Results Week 18
4 Mar '17
Sat Firsts
Kempton Park A
Lost by 166 runs
Sat Thirds
CBC OB
Won by 103 runs
Legends (4th)
Midrand
Won by 4 wickets
Women
Vosloorus
Won by 150 runs
5 Mar '17
Premier
CBC OB
Won by 3 wickets
Promotion
Bedfordview
Won by 7 wickets
Directors
Springs OB
Won by 55 runs
Chairmans
Kempton Park
Lost by 5 wickets
Colts
Wattville
Won by 10 wickets
Senior Fixtures Week 19
11 Mar '17
Sat Firsts
Nigel
A Field (home)
Sat Thirds
Boksburg A
PGP B
Legends (4th)
Wattville
B Field (home)
Women
Kempton Park
C Field (home)
12 Mar '17
Premier
Tembisa
Will B
Promotion
Tembisa
A Field (home)
Directors
United
HP A
Chairmans
Tsakane
B Field (home)
Colts
Avion
B Field (home)
U12A boys "Shine on the field"   On Saturday 4 March, our U12A boys played against Springs Old Boys (SOB). At the end of the game, the SOB coach asked if they could bring on their 12th man to face a few balls.  This young player has a hearing disability and cannot hear at all! He came in to bat and was bowled out on the first ball. Our boys then asked the umpire to call a no ball so that he could face a few more balls. He continued to bat, all while being helped and coached by our U12A boys. Congratulations to Mike and Ashley and the U12A boys for an absolute show of true sportsmanship! Well done boys, you have made your club proud.
MIKE WILLIAMS – A PROUD COACH
---
FOOTBALL
| | | |
| --- | --- | --- |
| BNFC Vets 1st | Boksburg FC | Lost 6-3 |
| BNFC Ladies A | Luso FC | Won 2-0 |
| BNFC Ladies B | Old Bens FC | Lost 4-1 |
---