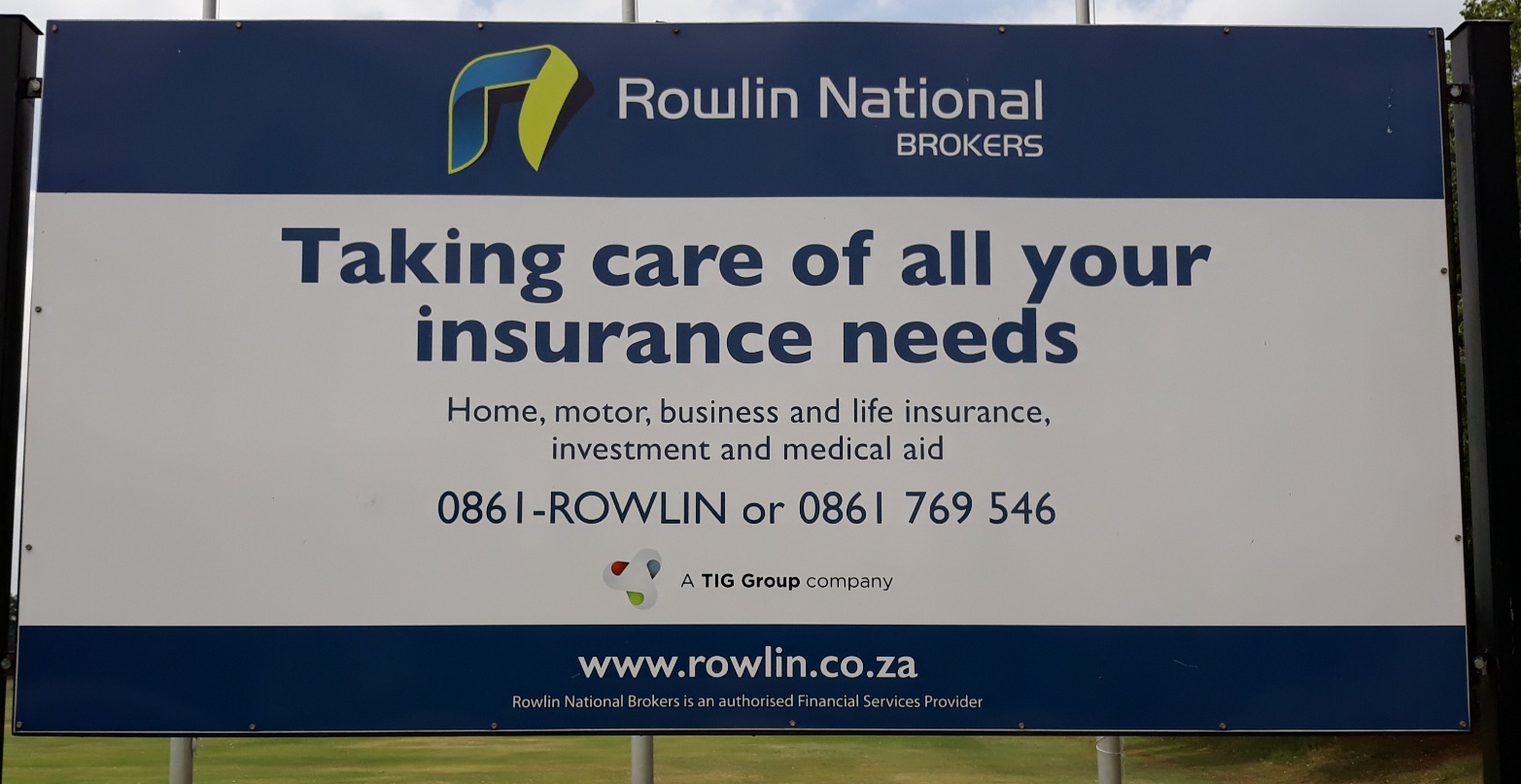 BNSC NEWSLETTER
A very good morning to you all……
We are experiencing the best of highveld autumn weather at the moment….crisp and fresh mornings warming to balmy lazy days…followed by the cooling down in the late afternoon, which generally means the adding of a layer or two of clothing so that the bite of the evening does not catch us unawares….a really lovely time of the year for me….the colours of the rainbow on the tree, while the grasses are still clutching to the green of summer in the hope of staving off winter for a little longer…
And at the Club, frantic activity…as we are busy preparing for our annual marathon, sponsored again by Robor… the usual variety of races, an Ultra of 50km, a standard 42,2km marathon, the 21.1 half marathon, 10km race and 5 km fun run….fences are being placed to ensure access is limited to participants…. scaffolding is being erected as a great "gateway" for entrants to the race….with a fitting closing gantry, for magnificent photo opportunities and for the prize giving function. This is always a stunning event that is taken on by the athletics section…and as always a slick operation organised by Jan and his willing crew of Members and helpers…I'm sure that this year will no exception…to all the participants, moral supporters, marshals, helpers and spectators…all the best…I'm sure it will be a fantastic and memorable day for all….
Please remember that the will be some congestion and traffic snarl-ups in Benoni and the general Club area on Sunday…from 04h30'ish to around lunchtime, when a majority of the runners will have completed their efforts and will have successfully begun the homeward bound portion of their trip for the day…the map of the race route was published in the City Times last week…but I'm sure we will have a few of them displayed at the North over the next few days to ensure that everyone is aware of the where's, what's and how's of race day…
A snippet of brilliant news….our Rugby boys had their first win over the weekend…with both of the first and second teams enjoying success against Meyerton….well done boys…that is fantastic news…long may this trend continue…I know the players and coaches have been hard at work on fitness, systems and tactics, which have finally borne fruit…I am sure it is most satisfying for everyone concerned that we have hit a winning trail…let's get about making it a habit now…
Soccer was not as successful over the weekend….sharing the spoils at Germiston with a 3-3 draw, but the second side held our name on high with a 7-0 drubbing of their reserve side… an additional side has been entered into the super league and reserves, so all the fixtures have been rehashed and at time of this edition, we are playing Alberton away this weekend…hopefully that stays the same…good luck to the fellows…let's bring back three points this time boys…
Our hockey boys also had an unsuccessful weekend of sport, going down to Wanderers B and the second side losing a double header to Shumba and MCC…so all in all a dastardly weekend on the hockey front….
In the local matches at the North…hockey was definitely the winner…with many sides taking advantage of our excellent after match facilities and partying the day and night away after their respective matches…
Our runners graced the course of "om die Dam" last weekend and it looked like a helluva good day, many of our runners achieving their personal bests in the event…well done…….however, much to our dismay, the live action on the busses to and from the event have been kept as a closely guarded secret…but never fear, our intrepid reporter for this esteemed weekly journal will continue researching and foraging for the odd snippet of juicy news emanating from this "confidential" journey…there is apparently an extremely secretive oath which is taken by each runner before such a trip, that a terse "no comment" statement be issued to any probing questions…! J
Friday night was another super evening, with the Wilsons keeping the feet tapping in the Scimitar…it looks like the lucky area for people to be drawn for the Joker Jackpot is in the Main Bar…after three weeks of winners being called from Aliaster's Aristocratic Apex near the Joker cabinet…we moved for two weeks to the Cabbage Patch…and this week…it was a return to Aliaster's Apex…this time Antonio de Jesus being the lucky one….again, it looked like he meant business…as he strode up and immediately made his selection (he obviously had made up his mind well before the time)….pointed to his card (slightly down and to the right of "dead centre")…only to reveal the five of diamonds!! So the Joker remains hidden for another week and allows the Jackpot to move up to R76766 for this week…with the long weekend coming up and a Public holiday on Friday, we have moved the draws and the monthly night market to Thursday night…so if you aren't going away…please come and try your luck at the Joker Jackpot…for only R5, you can be the next person to select a card to find our elusive joker! Last ticket sales are at 19h20 and the draw will be at 19h30… this is preceded by the Members and raffle draws at 19h00…and the Members draw this week is up at R3800…definitely worth a visit… with the night market and a great band, Omega here…this promises to be a super evening….Bruce from Omega has promised that the band will play outside if the weather plays the game with us…so I'm holding thumbs for some great weather…it should be a fantastic experience…the smells of gourmet cooking….cold drinks and some tunes to serenade the night away…
That's all for this week…please don't forget to diarise our Main Club AGM on May 10…please come along to this important function…it is your chance to have your say, find out what is happening with the Club, administratively and financially…and have any queries resolved and questions answered that you may have about the current position and future prospects of our beloved "North"… please keep sending your comments and complaints to me at rod.scheepers@gmail.com Take care, see you soon   Rod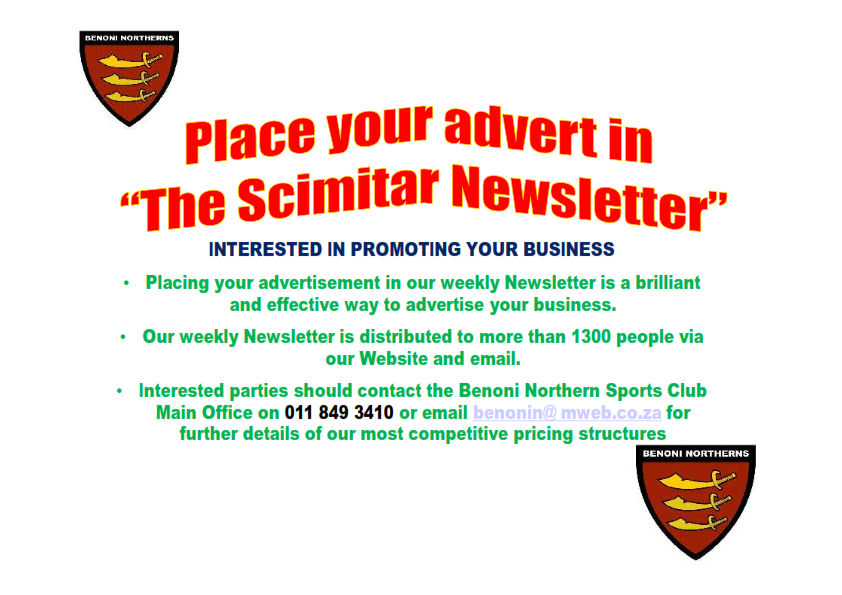 "SCIMITAR BAR" AND BEER GARDEN OPENING AT 12H00 ON THURSDAY 26TH APRIL – SERVING PUB LUNCHES
Omega The Band – entertaining us – Thurs 26th April – 19h00
COLOR RUN – SUNDAY 20TH MAY 2018
---
ATHLETICS 
---
BASEBALL
Baseball Arnold Classic 2018
---
CRICKET

The transfer window has officially opened on 1 April. We at BNCC want you! If you are looking to transfer or just want to get a early registration in for next season, kindly send us a DM and we will assist. All welcome

Our Under 13 boys enjoyed a home game this weekend against Vereeniging. Owen won the toss and sent the boys from Vereeniging in to bat. At drinks, the opponents were sitting at 58/5 after some superb bowling upfront. Northerns restricted their opponents to 111 all out. Northerns came out to bat positively with some excellent shots being played. A few early wickets dropped but the boys managed to finish the game off in 20.2 overs and winning by 5 wickets.
---
FOOTBALL
---
HOCKEY
1st Team lost 1-3 to Wanderers B with David scoring tour only goal.  2nd Team had a double header this weekend losing both their games 0-4 against Shumbas C and MCC D.
---
RUGBY
Grizzlie Ild Bears vs Diggers 21 April 2018 at Alberton Rugby festival
---